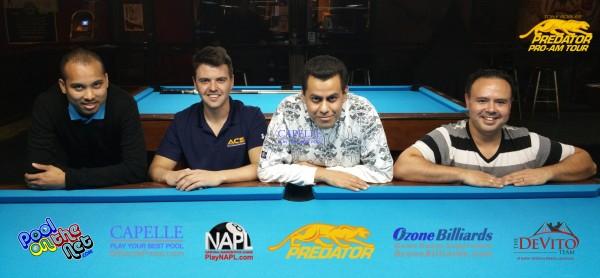 Rhys Chen, Brendan Traynor, Xavier Romero and Jerry Almodovar
Rhys Chen
and
Xavier Romero
battled twice in their effort to claim the 2017 Predator Pro Am Championship title. Held on the weekend of December 2-3, the $10,500-added Championship drew 89 entrants to the invitational event, hosted by Raxx Billiards in West Hempstead, NY. Chen won both battles to claim the event title.
Two, $250-added Second Chance events for the lower and upper brackets (higher and lower-ranked players) were added to the proceedings, as well as a Third Chance event. All three entailed a double hill final.
Jimmy Acosta
took the 10-entrant, upper bracket Second Chance over
Gene Hunt
, while Danny Recinos downed Erik Carrasco to take the lower bracket prize. Acosta also won the Third Chance event, defeating
Stephen Motilal
in the finals.
In the main event, Chen (an A player) advanced to a winners' side semifinal against
Annie Flores
(B+ winner of the tour's season finale last week), while Romero (B) faced
Andrew Cleary
, who was one of two C+ players among the event's final 12. Chen downed Flores 7-2, while Romero sent Cleary to the loss side 7-3 (scores take handicap differentials into account). Chen claimed the hot seat 7-3 over Romero and waited for him to get back from what would prove to be a tricky semifinal against
Brendan Traynor
(A++).
Traynor was on the loss side, in the midst of a six-match run that began when Duc Lam had defeated him in the third round. He got by
Eddie Kunz
8-5 and
Mike Panzarella
7-4 (wins #2 and #3) to draw Flores. Cleary picked up Jay Almodovar, who'd gotten by
Jose Kuilan
7-3 and
Abel Rosario
, double hill, to reach him.
Traynor and Almodovar advanced to the quarterfinals; Almodovar 7-3 over Cleary, and Traynor in a double hill win over Flores. Traynor advanced one more step with a 10-7 win over Almodovar, and then locked up in a semifinal, double hill fight against Romero, which eventually ended his loss-side streak.
Romero stepped right into a second, double hill match in the finals against Chen, which opened with Romero taking an early lead. Chen rallied and chalked up the racks he needed to complete his undefeated run and claim the 2017 Predator Pro Am Tour Championship title.
In addition to the crowning of its Tour Champion, tour director
Tony Robles
announced Player of the Year awards in nine separate divisions, from A++ to D/D+ and a Female class. Amy Yu claimed the Female class award (with Suzzie Wong as runner-up), while Annie Flores took home the B+ Player of the Year Award. At the top of the rankings,
Mike Salerno
took home the A++ title, with Rob Pole as runner-up.
Elvis Rodriguez
won the A title, with
Lidio Ramirez
in second place.
Max Watanabe
was the A winner ahead of
Brooke Meyer
, while
Dave Shlemperis
was runner-up to Flores in the B+ division. Abel Rosario was the tour's B-class Player of the Year, ahead of
Eugene Ok
.
Ambi Estevez
took home the C+ class award, with
Tony Ignomirello
as runner-up.
Dave Callaghan
won the C-class award, ahead of
Matthias Gutzmann
, while
Juan Melendez
claimed the D/D+ award in front of
Carmine Andujar
.
Tour director Tony Robles thanked the ownership and staff at Raxx Billiards for hosting the final event of the Predator Pro Am Tour's 2017 season. He extended best holiday wishes to all of the players, room owners, and tour fans, as well as all tour sponsors; Predator Cues, Ozone Billiards, PlayNAPL.com, The DeVito Team, PoolontheNet.com, Capelle Billiards Press, AZBilliards, Billiards Digest and Pool & Billiard Magazine.
The 2018 Predator Pro Am Tour season will open with two events at Steinway Billiards in Astoria (Queens), NY. The first is scheduled for the weekend of January 6-7, while the second will be held on the weekend of January 27-28. A Double Points event at Cue Bar (Feb. 10-11) will be followed by the Empire State Championships, scheduled for the weekend of February 24-25, back at Raxx Billiards.