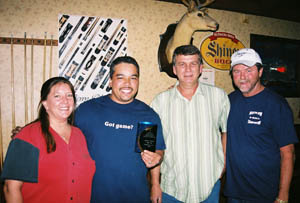 Rodney Morris with James Davis Sr and tournament staff
Rodney Morris blasts field and goes undefeated to win the Houston Open title.
Rodney took the hot seat with a 9-4 win over James Davis Sr. James then waited to play the winner between defending champion Charlie Bryant and Mike Alonzo who was showing the heart of a champion. With the one loss side racing to seven every rack was important. Charlie won the first rack but traded racks till the score was tied 2-2, then Charlie went on a run to make the score 5-2. Mike was only able to get one more rack before Charlie finished the set at 7-3. Great tournament Mike!
This set up the match between Charlie Bryant and James Davis Sr. to see who would get the chance to play Rodney for the title. With close to 200 spectators watching the match the score went like this, 2-0 Charlie, 2-1 Charlie, 3-1 Charlie, 3-3 tie, 5-3 Charlie with James breaking in the loser break format. James breaks and runs out which seemed to set the tone for the rest of this match as from here James won the next three racks for a 7-5 win and the chance to play Rodney again.
Rodney Morris came to the Houston Open one week after winning the Corpus Christi Classic and was not going to stop there as he played fearless, shooting shots and playing shape from everywhere not allowing James but 4 games before reaching the nine games needed to win this Houston Open Title.
Congratulations to Rodney and all the other finishers. Legends Billiards hosted another great tournament in League City Texas. With three U.S. Open Champions, Defending Houston Open Champion, Current Texas Open Champion, Current Corpus Christi Open Champion, and at least eleven Fast Eddie's Nine ball titles present. The field was stacked for a crowd-pleasing event. Some of the players included in this list are, Current U.S Open Champion Gabe Owens, Last years U.S. Open Champion Jeremy Jones, U.S. Open Champion and current Corpus Christi Classic Open Champion Rodney Morris, Current Texas Open Champion Jai Lung "Chen" Lee and Defending Houston Open Champion Charlie Bryant.
Everyone would like to thank the sponsors, Strick-ly Used cars, Jerry Olivier Custom Cues, Ron Geyer with The Custom Cue Connection and Bubba Regan of Schuler Cues. Many thanks go out to The tournament directors Denis and Trish Strickland and Craig and Mindy Cohen the owners of Legends for hosting this great event.
Total Payouts.
1st $8575.00 Rodney Morris
2nd $5810.00 James Davis Sr.
3rd $4175.00 Charlie Bryant
4th $2785.00 Mike Alonzo
5th/6th $1782.00 Jai Lung "Chen" Lee and Gabe Owens
7th/8th $1263.00 Sonny B. and Steve Smith
9th/12th $370.00 Moses Herrera, John Weeks, Rigo Pena and Jeremy Jones
13th/16th $280.00 Bobby Pickle, Bobby Gonzales, Robert Almerez and Tony Hinojosa