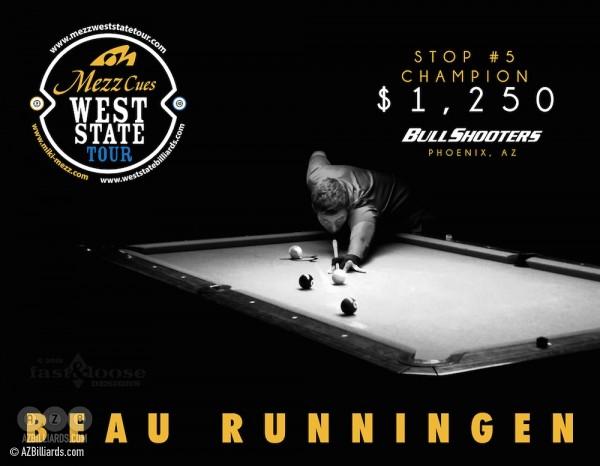 Beau Runningen
On the weekend of July 11th and 12th, a very talented group of 79 pool players escaped the blistering heat of Phoenix, Arizona to compete in the Mezz West State Tour's 5th event of their 17 stop season. Room owners of Bull Shooters, Mike and Julie Bates have one of the premier pool rooms in the nation boasting a huge array of tables, full kitchen, and full bar catering to both the recreational and serious pool fan. This is the second time the tour has visited Bull Shooters and the players thoroughly enjoy the venue.
The bottom half of the bracket was lead by one pocket specialist Bernie Pettipiece with wins over
Marshall Anonby
, Michael Langarica,
John Ritonya
, George Tehachea, and
Mark Whit
ehead to face Dominguez for the hotseat.
Meanwhile on the one loss side, early tounament favorites such as
Sal Butera
,
Dave Hemmah
,
Rodney Morris
,
Vilmos Foldes
,
Brian Parks
, and
Ernesto Dominguez
all faced early defeats making the one loss side littered with top players and amateurs. Once the dust settled, it was former Junior National Champion Beau Runningen clawing his way through the B bracket with wins over Bobby Emmons, 17 year old sharpshooter Chris Robinson, and Bernie Pettipiece to set up an all Southern California finals between Dominguez and Runningen for the title in the single extended race finals. After a few critical mistakes by Oscar, Beau capitalized with solid safety play and firepower to take tour stop #5 and first prize.
The top female bonus was awarded to
Melissa Herndon
and we would like to thank all our sponsors and players for their continued support.
The Mezz West State Tour would like to thank all their sponsors: Mezz Cues (Miki-Mezz.com), West State Billiard Supply (WestStateBilliards.com), Zan Tips (Zan-Tip.com), Taom Break/Jump Tips (TaomTips.com), Andy Cloth (AndyCloth.com),
Ozzy Reynolds
and CSI (PlayCSIPool.com), PiUs Company, So Cal Tap, Kurzweil Country Meats, fast&loose desgins (fastnloosedesigns.com), Contact Point Media, Turtle Rack, NYC Grind (NYCGrind.com) and AZ Billiards (AZBilliards.com).
We would also like to thank Mike and Julie Bates, along with their two daughters and the entire Bull Shooters staff for hosting the event. We would also like to thank all the players for coming out and supporting the tour.