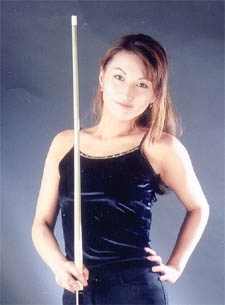 Miyuki Sakai
As the first day of matches at the 4th Annual Predator Central Florida Pro Open draws to a close, two rounds of action on the winners side are complete.
Taking early trips to the one-loss side were Corey Deuel, Robb Saez and Richie Richeson while the rest of the top seeds all advanced.
The biggest surprise still on the winners side is Japanese player Miyuki Sakai. Sakai caught a bye in the first round but scored a hill-hill win over Julio Aquino after that. Aquino was fresh off his 9-3 upset win over Corey Deuel, but he couldn't score the case game against Sakai.
Play will continue at Pro Billiards in Orlando, Florida all weekend long. Complete brackets for this event are online and will be updated all weekend.