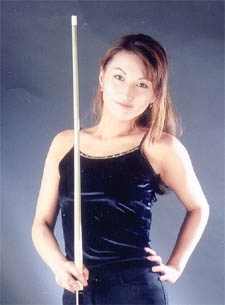 Miyuki Sakai
Japanese sensation Miyuki Sakai went undefeated to win the Hunter Classics Women's Tour stop at Legends Billiards in League City, Tx.
Sakai started the day on Sunday with a win over Michelle Cortez and then a 7-5 win over Tara McCracken for the hot-seat. Sakai and McCracken were tied at 5-5 before Sakai won the last two games to take the hot-seat.
Tara was not able to recover from the loss to Sakai and lost to Orietta Strickland on the one-loss side setting up the final match between Strickland and Sakai.
Sakai looked unstoppable early in the final match as she cruised to a 6-2 lead. However Strickland played her best game with her back to the wall and came out firing in balls from everywhere. With a flurry of jumps and kicks, Strickland clawed back to 6-5 down before Sakai finally sank the final 9-ball for the win.
Sakai collected $750 for first, as well as the qualifier for the WPBA Florida Classic. Strickland settled for $550 in second place prize money. McCracken and Leslie Anne Rogers filled out the top four spots.
Payouts:
1st Miyuki Sakai $750
2nd Orietta Strickland $550
3rd Tara McCracken $380
4th Leslie Anne Rogers $250
5th/6th Melinda Bailey, Michelle Cortez $150
7th/8th Helen Hayes, Heather Pulford $100