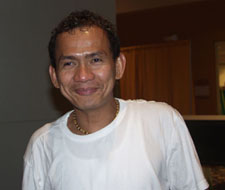 Santos Sambajon
Santos Sambajon made it 'two in a row' with a victory over Jarrod Clowery in the finals of the Joss NE 9-Ball tour event at Pro Billiard Lounge in Rotterdam NY.
Sambajon defeated Clowery earlier on Sunday for the hot seat with a great comeback from 8-2 down to score the 9-8 victory. It looked like Sambajon would fall just short in that comeback, when he made the 8-ball at 8-8 and everyone watched the cue-ball heading for the pocket. The cue-ball stopped just short of the pocket, and Sambajon made the 9 for the win. Santos later claimed there was no chance for the scratch, as he had the table speed down perfectly.
Clowery took the trip to the one-loss side where he defeated Ian Costello 9-6 to set up the rematch with Sambajon in the finals. The finals started out as a much closer match with the players tied at 4-4. From there, Sambajon turned it on and scored the 9-6 victory.
The win was Sambajon's second straight Joss Tour victory. He won at Spot Shot Billiards in Portland, ME two weeks ago. Sambajon collected $1200 for first , while Clowery settled for $800 for second. Costello and Pro Billiards room owner and tour director, Mike Zuglan finished in fourth.
Photo courtesy of Diana Hoppe - Pool Pics by Hoppe
Complete Payouts:
1st Santos Sambajon $1200
2nd Jarrod Clowery $800
3rd Ian Costello $600
4th Mike Zuglan $450
5th/6th Mike Minichello, Tom Acciavatti $275
7th/8th Karen Corr, Jim Gilday $150