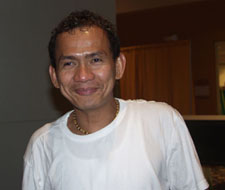 Santos Sambajon
Santos Sambajon dominated Jose Parica to capture the hot-seat at the Fury World Summit of Pool being held at Amsterdam Billiards in New York, NY.
Sambajon controlled the break and controlled the match. In the eleven games that Sambajon broke, he made a ball on every break and totalled 27 balls on the break.
Sambajon took an early 2-0 lead before Parica was able to win a game. From the 2-1 mark, Sambajon won the next eight games for a 10-1 lead. A scratch on the break in the 12th rack allowed Parica to win his second game but Sambajon finished Parica off in the next rack for the 11-2 victory.
Parica will now face Johnny Archer in the semi-final match.
Worldpool.com will be offering all of the sunday matches as part of their online PPV package with matches at 6:00 and 8:00. The price for one match is $7.99 and the price for an all-day package is $19.99. More information is available here.
Brackets are online and all Saturday's results are updated. Lines on select matches will be posted at legendzsports.com.
Photo courtesy of Diana Hoppe - Pool Pics by Hoppe