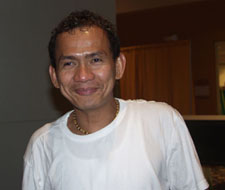 Santos Sambajon
Santos Sambajon bounced back from a loss on Saturday to defeat Danny 'Kid Delicious' Basavich twice in the finals to win the first stop on the Joss NE 9-Ball Tour schedule at Drexeline Billiard Club in Drexel Hill, PA.
Basavich remained undefeated and took the hot-seat with a 9-3 win over Tour Director Mike Zuglan. In the finals, Basavich lost a heartbreaking 9-8 match in the first set and then fell 9-5 in the second set.
Sambajon collected $1800 for the win, while Basavich settled for $1200 in second place prize money. Zuglan and Mike Miller filled out the top four spots.
The Joss NE 9-Ball Tour will be at Great Slates Billiard Lounge in Cambridge, MD next weekend for a $5000 added event.
Photo courtesy of Diana Hoppe - Pool Pics by Hoppe
Complete Payouts:
1st Santos Sambajon $1800
2nd Danny Basavich $1200
3rd Mike Zuglan $900
4th Mike Miller $600
5th/6th Joe Tucker, Ed Abraham $400
7th/8th Karen Corr, Jose Parica $250