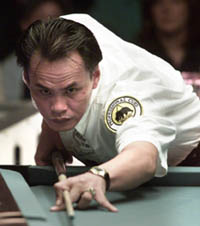 Francisco Bustamante
February 25, 2004, Singapore . . . 9-ball action returns to Singapore when current world number one player Francisco Bustamante meets the challenge from a field of 32 top Asian players for the first leg of the five-city San Miguel Asian 9-Ball Tour 2004 at Pool Haven in Clarke Quay. All the action in Singapore will air LIVE on STAR Sports at 19:00, February 28 and 16:30, February 29 (Singapore/Hong Kong time).
Featuring world's no. 1 Francisco Bustamante and former World Pool Champions Efren "Bata" Reyes both from the Philippines and Chao Fong-Pang from Chinese Taipei, the competition is also the first chance for the 32 participating players to garner qualifying points towards the World Pool Championships in July. The Tour is the only ranking tour in Asia for players to qualify to the World Pool Championships.
Adding to the stakes will be a prize money purse of US$50,000 up for grabs at this weekend's Singapore leg and on each subsequent stop of the San Miguel Asian 9-Ball Tour in Ho Chi Minh City (March 13-14), Hong Kong (April 17-18), Taipei (May 7-9) and Manila (May 29-30). The main draw includes 32 top Asian players from 11 countries/ regions.
Due to the outbreak of SARS, only two legs were held in the inaugural San Miguel Asian 9-Ball Tour last year. 2002 Busan Asian Games 9-Ball singles gold medallist Yang Ching Shun of Chinese Taipei and 1999 world champion Reyes took the two leg titles in Singapore and Manila respectively.
The top ten finishers of the 2003 Tour won entry into the 2003 World Pool Championship in Cardiff. Five of them advanced to the last 16 and three players, Bustamante, Yang and Korea's Park Shin Young were among the last eight.
At this inaugural leg of 2004, host Singapore is represented by Tan Tiong Boon, Toh Lian Han, William Ang Boon Lay, Ricky Chew and Bernard Tey Choon Kiat.
Former world champions Reyes and Chao Fong-Pang (1993 & 2000) of Chinese Taipei will definitely be the players to beat in Singapore. But these 9-ball giants will face up against the likes of Busan Asian Games 9-Ball bronze medallist and current world number nine Jeong Young Hwa of Korea as well as 2003 Singapore and Philippine leg first runner-up Warren Kiamco.
On the list there is Frennie Reyes, who is the 20-year-old son of Efren. He is a Computer Science student and started playing pool only three years ago.
Competition will start at 10:00 in February 28 and 11:30 in February 29.
For all information on the Tour, please check out www.asian9-balltour.com. For the latest schedules and program information on ESPN STAR Sports, catch us on the net at www.espnstar.com.
San Miguel Asian 9-Ball Tour, Singapore 2004- LIVE on STAR Sports
Feb 28 19:00 (L) 12:30 (R) Mar 1 Quarter-finals
Feb 29 16:30 (L) 18:00 (R) Mar 2 Semi-finals
Feb 29 20:00 (L) 23:00 (R) Mar 3 Final
Hong Kong/ Singapore Time. Schedule subject to change.
Sanctioned by the Asian Pocket Billiard Union, the San Miguel Asian 9-Ball Tour is organized by ESPN STAR Sports' Event Management Group (EMG). San Miguel Beer is the title sponsor for the Tour. Iwan Simonis and Aramith supply the official tablecloth and official balls respectively. STAR Sports is the official broadcaster. The 2004 Tour have five legs in Singapore, Ho Chi Minh City, Hong Kong, Taipei and Manila. Besides total prize money of US$250,000, top 10 on the Tour Order of Merit every year will directly qualify into the World Pool Championships
Photo courtesy of Matchroom Sport