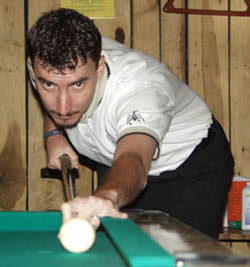 Johnny Archer
Saturday matches are underway at the Brunswick Pro Players Championship in Valley Forge, PA.
There are three winners so far today on the winners side. Johnny Archer dominated Danny Hewitt 10-2, Jose Parica beat Earl Strickland 10-3 and Mika Immonen beat Evgeny Stalev 10-9.
A couple top players have already been shown the way to the door on the one-loss side on Saturday. George San Souci was beaten 10-5 by Frankie Hernandez, Troy Frank dropped a 10-6 match to Dave Daya, 'The Terminator' Niels Feijen lost on the hill to Bob Maidhoff and Ronnie Wiseman lost 10-8 to Tony Robles.
We will have more results later today from both the Brunswick Pro Players Championship and the Women's Pro Players Championship.
Photo courtesy of Diana Hoppe - Pool Pics By Hoppe