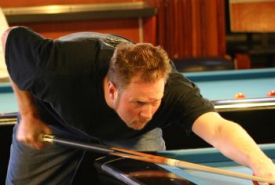 Scott Tollefson
The 2009 season is underway as the year opener took place Apr 18th/19th at Orange Ball Billiards in Rockville, MD. A strong field of 83 players signed up for the $1000 added event made possible by Orange Ball, Tiger Products and the tour sponsors.

There were plenty of new faces joining the tour regulars for this event. Scott Tollefson joined the tour last year and immediately established himself by winning his first event. This year he started out with an uneventful Saturday advancing easily with wins over Saif Muhsen 9-4, Mark Andrews 9-1 and Rocky Guell 9-6. Newcomer to the tour, Bobby Chamberlain lost a first round match with Shane Jackson. Tour regular Daniel Madden finished his Saturday with a thrilling 9-8 win over Jackson. Joining Tollefson and Madden in the final 8 winner side were Manuel Orino, Jeff Adams, Roger Riley, Chuck Curro, Richard Nace Jr and Ryan McCreesh. 8 players remained in the one-loss bracket.

On Sunday, Madden and Tollefson advanced to the hot seat match with little trouble. Tollefson remained undefeated with a 9-6 win over Madden. The elimination bracket held a little more interest with loads of previous tour event champions battling it out. Tour founder Danny Green took out 2007 Player of the Year Shaun Wilkie but then fell soon afterwards to Manuel Chau.

Assistant tournament director Andy Lincoln defeated Matt Clatterbuck 7-6 and Jeff Adams 7-3 before meeting up with Bobby Chamberlain. Chamberlain had been on a tear after losing his first match on Saturday rolling off 7 uncontested victories. A quick 7-1 win over Lincoln and a close 7-6 win with Ryan McCreesh put Chamberlain and Chau into a fan favorite match. Chamberlain escaped with a 7-6 win placing Chau into the 4th spot. A 7-2 win over Madden put Chamberlain into the single set race to 11 finals with Tollefson.

The undefeated Tollefson had been keeping loose all afternoon waiting for an opponent. He took an early lead and kept the score on his side most of the match. Chamberlain fought back to take a 9-8 lead. When Tollefson returned to the table, he made the most of it closing out the match 11-9. 1st paid $1150 with $750 for 2nd.