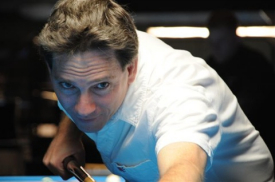 Tommy Kennedy
November 1st and 2nd saw the fifth stop of the J. Pechauer Custom Cues Southeast Open 9-Ball Tour get underway.  The $1000 added "Pechauer Gainesville Open" played at The Art of Billiards in Gainesville, Florida, ended up with a few new names in the running – Garrett Wiley took top junior finish and $25; John Foster and Ron Richardson shared honors as highest senior placing ($25 each); and the crown for the women finishers was shared by Dana Rogers and Allison Folds.  Both Rogers and Folds received $25 each for their placings.  $35 went to a local non-profit charity in the city in which the event was held.

The main event boasted a $2210 purse and thirty-four players came out to earn their right to be called the champion of the tournament.  As fate would have it, the eventual winner would be none other than Tommy Kennedy.  He (Kennedy) secured his spot in the finals arena with a win over Neil Fujiwara in the winner's side hot-seat match 9-4.

On the one-loss side Butch Croft was making his way to match-up with Fujiwara in the semis with the latest of his wins over Walter Blacker 9-7 in the quarter-finals.  Croft continued his superb play in the semis and ultimately took control and ended the set over Fujiwara 9-4 to move into the finals with Kennedy.

The finals ended up being quite a tight race.  Croft, down in the set 9-6, ran three racks to tie up the score at 9-9.  Due to an unexpected mistake in the next rack, Kennedy had the opportunity to take the lead and closed out the set 11-9 taking his second tournament in a row and causing Croft to settle for a very respectable second place finish this weekend.

Special thanks to Art and Dana (at The Art of Billiards) for hosting the event, along with the staff, players in attendance, and spectators that were on hand cheering on their favorites.  Visit and support the tour sponsors that can be found at www.southeastopen.com/sponsors.asp or if you would like additional information on the tour itself, stop in at the homepage www.southeastopen.com/index.asp

This weekend, November 8th and 9th, the tour will hold The J. Pechauer Sunrise City Open at Ultimate Billiards in Ft. Pierce, Florida.  For more information contact Gary at (772) 370-9184 or Bill at (772) 418-7075.  This stop will feature a $1000 added open Saturday/Sunday and a $500 added amateur division Sunday only.

Additional stops can be found here.