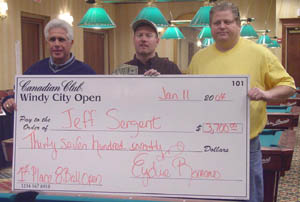 Chuck Weisberg, Jeff Sergent and Bob Romano
The Windy City Open is complete with Jeff Sergent and Debby Martin winners in the 8-Ball divisions.
Earlier in the event, Jesse Bowman captured the Open 9-Ball division. He ended up one match short of adding the 8-ball division to his resume. Bowman, from Moline Illinois, lost 5-1 to Jeff Sergent from Joliet Illinois. Sergent collected $3700 in prize and calcutta money. Sergent also won this event during the Midwest Open Tournament back in October.
The ladies 9-ball division was won early in the event by Pam Bell from Milwaukee Wisconsin. Bell also came up one match short of adding the 8-ball crown to her weekend tally. Bell lost 5-0 to Debby Martin from Clinton Wisconsin. Martin took home $1160 in total prize money for the 8-ball division.
Photo courtesy of Susie Levinberg