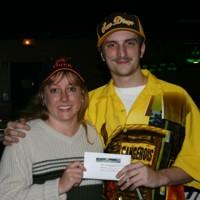 Shaun Wilkie
The Tiger Planet Pool Tour headed up to Hagerstown Billiards on October 22/23rd for stop #10 of the 2005 season. This is a player favorite room owned by players Gary and Jason Carbaugh. Friendly service and 18 Brunswick Gold Crowns with plenty of space make for excellent conditions. There were 66 Open division entrants and 21 ladies on Sunday competing for the $2000 added prize money.
Shaun Wilkie came out strong after his win a couple weeks ago in the 10 ball ring game N.U.T.S. playoff. A couple of easy wins and a 9-5 win over points leader Mike Davis put Wilkie into Sunday undefeated. Also rolling was Kevin West who won his 3 matches by a combined score of 27-1. Joining them in the final 8 winner-side were newcomer Butch Weimer, Henry Moore, BJ Ussery, Lee Holt, recent Tiger 8 ball tour winner Ed Deska and hometown favorite Ryan McCreesh. There were 8 players left in the elimination bracket including the rapidly improving Stacey Sudler who defeated Brandon Shuff and sent Mike Davis on his way Saturday evening.
On Sunday, Wilkie advanced to the hot seat match with a 9-7 win over Ussery while McCreesh squeaked past Deska 9-8. A 9-6 win over McCreesh left Wilkie waiting for an opponent in the final. Brett Stottlemyer won 7 matches on the 1-loss side to meet up with Lee Holt. Holt was also having a nice run with wins over Sudler, West and Ussery. This match went to Holt by a convincing 7-1 score. McCreesh put an end to Holt?s event with a 7-3 win to take on Wilkie again. The single set final to 11 games was mostly back and forth until McCreesh stood at a 10-8 advantage. A nice jump shot on the 4 went straight in the corner but was followed by the cue ball. A 5-9 combination and a crushing break followed by a routine run out put the score at 10-10. A missed safety by Wilkie followed by a botched 6 ball by McCreesh led to the victory for Wilkie. 1st was worth $1200 with $750 for 2nd.
9 of the Top 10 ladies on the points list were in attendance on Sunday to make for a solid field of 21 competitors in the Women's division event. The final 4 winner side came down to a strong group with WPBA pro Sueyen Rhee taking on points leader Pamela Treadway and Malea Haacke facing My-Hanh Lac. Rhee overcame a 0-4 deficit to win 7-5 while Lac cruised over Haacke 7-2. Rhee came out on top of Lac with a close 7-6 victory. In the elimination bracket, Haacke defeated Treadway 5-3 to place her into the 4th spot. Haacke gained her revenge over Lac 5-2 to earn the chance to take on Rhee. In the single set final race to 9, Rhee reversed a 2-4 deficit to win the match 9-5. 1st was worth $430 with $285 for 2nd.
Complete results from both divisions are available on the Planet Pool Tour website at http://www.planet-pool.com/