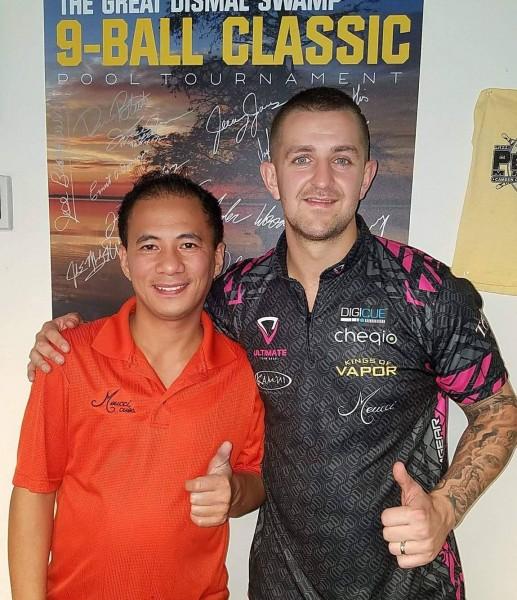 Dennis Orcollo and Jayson Shaw (Photo courtesy of Poolactiontv.com)
This weekend, Elizabeth City, NC was the place to be for this year's US Open 9 Ball warm-up - the 3rd Annual Dismal Swamp 9-Ball Classic. Owners Jimmy, Ashley and Scott Cartwright - father & two sons – laid out the red carpet at Colonial Cues. With tournament sponsors Glover Law Firm, Biggs Cadillac, Jim Todd, Toyota of Elizabeth City, East Coast Landscaping, McDonald's, David and Allison Cianciulli, Mike Burton with Joss Cues and the City of Elizabeth, the Cartwrights put together another great event.
The star-studded thirty-two player field included former US Open champs
Shane Van Boening
,
Earl Strickland
,
Tommy Kennedy
and
Jeremy Jones
as well as Hall of Famers
Loree Jon Hasson
and
Karen Corr
. In addition,
Billy Thorpe
,
Alex Pagulayan
,
Brandon Shuff
,
Danny Basavich
,
Dennis Orcollo
,
Devin Poteet
,
Jayson Shaw
, Sky Woodward,
Shaun Wilkie
,
Tony Chohan
,
Max Eberle
,
Ernesto Dominguez
, James Aranas plus Petri Makonnen and
Jani Siekkinen
from Finland put up $250 to take their shot on the nine foot Brunswick Gold Crowns. The format was double elimination – race to 9 on the winners side, race to 8 on the one loss side – winner break, rack your own.
On Friday night, everyone was treated to an exhibition by Venom Trickshots - the one and only
Florian Kohler
. This is definitely not your grandfather's trick shot show! For those who haven't seen him in action, he's incredible! This was followed by the players auction and then most headed to bed – first round matches started the next day at 10 am!
First round action saw Alex Pagulayan over Karen Corr, Devin Poteet lost to Tommy Kennedy, Jayson Shaw beat Jeremy Jones and Sky Woodward defeated Shaun Wilkie. Tony Chohan was taken down by Jani Siekkinen while fellow Finn, Petri Makonnen, lost to Shane Van Boening.
Second round action was really brutal! Loree Jon Hasson lost to Billy Thorpe, James Aranas bowled over the always tough Alex, Brandon Shuff trimmed Earl Strickland, Dennis Orcollo defeated Danny Basavich, Jayson Shaw sent Tommy west, Sky won over Jani and Shane dispatched Max Eberle to the west side of the chart.
It wasn't getting any easier! In the third round, James sent Billy to the one loss side while Dennis did the same to Brandon. Sky polished off Jayson while Shane dusted off
Kevin West
.
By now, there were four players left on the winners side of the chart – James Aranas vs. Dennis and Sky vs. Shane. Dennis and Sky emerged for the hot seat match while James and Shane headed over to the other side to duke it out with the remaining players.
The battle for the hot seat resulted in Dennis locking up his spot in the finals 9-5 and Sky going west to await the results of the Jayson-Shane match. Jayson moved on in a nailbiter – 8-7. Shane had to settle for a fourth place finish.
Looking to avenge his earlier defeat by Sky, Jayson was a man on a mission. He won 8-6, leaving Sky in third place.
This would be a one set finals – race to twelve. It looked to be a barnburner as both Dennis and Jayson were in dead punch. Marching to a mid-match lead, Jayson led 6-3 and then Dennis hit a gear. Racking up game after game, it was all Dennis as he tied it up, went ahead and reached the hill first - and then missed. Now it was Jayson's turn! Winning game after game, he stole the title from a stunned Dennis. What. A. Match!!! Congratulations, Jayson! Great tournament, Dennis!
Thanks again to Jimmy, Ashley, Scott and their staff for another successful event as well as two Tournament Directors Eric Williamson and Preach Dant for keeping the show running smoothly.
PoolActionTV.com would like to thank our viewers and all behind the scenes who helped make this a great show. Without our sponsors – Steve Lomax of Lomax Custom Cues, Aramith,
John Barton
of JB Cases, Simonis, James Hanshew of Hanshew Custom Cues, Kamui, GoPlayPool.com,
Mike Durbin
of Durbin Custom Cues and Club Billiards of Wichita, KS – none of this would be possible. Thank you to all!!!
Our next stop is the Sidepocket Open 9-Ball Championship to be held October 28th-29th at Sidepocket Billiards and Darts in Shreveport, LA. Hope to see you there!!!