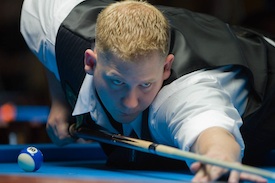 Brandon Shuff (File photo courtesy of Jeff Smith)
Brandon Shuff
won five straight on the loss side to meet and defeat Tour Director
Ozzy Reynolds
twice in the finals of the Action Pool Tour stop on the weekend of April 14-15. The event, streamed live via The Big Truck Show, drew 40 entrants to Break Time in Salisbury, MD.
Shuff was challenged immediately at this event, surviving a double hill battle versus Chris Garrett in the opening round of play. He went on to defeat Mike Mcnaughton 9-5, and then got caught up in a second double hill battle; this time, against
Brett Stottlemyer
. At double hill, Stottlemyer actually sunk the 9-ball, but the cue ball traveled multiple rails, and hung in a pocket, before dropping in to essentially give Shuff the victory. Shuff then ran right into
Brian Deska
and a third straight double hill match that sent him to the loss side.
Deska moved on to face Reynolds among the winners' side final four. Joining them were
Fred Scott
and
Danny Bell
. Reynolds downed Deska 9-7, and moved into the hot seat match against Bell, who'd defeated Scott 9-6. Reynolds survived a double hill match against Bell, and for the first time since April of 2011 on the Great Southern Billiard Tour, he was in the hot seat.
Deska moved over to face
Kevin West
, who'd defeated
Jeremy Perkins
9-6 and
Paul Helms
9-2. Scott picked up Shuff, who, following his defeat at the hands of Deska, had defeated
Josh Brothers
9-3 and
Derek Schwager
9-1. Shuff downed Scott 9-5 and was denied a quarterfinal re-match against Deska, when West defeated him 9-3. Shuff defeated West 9-7 in those quarterfinals, and followed that with a 9-6 win over Bell in the semifinals.
In the opening set of the true double elimination finals, Reynolds appeared to be on his way to a single set victory. Shuff took the opening game, but Reynolds ran four straight, including two break and runs to take an early 4-1 lead. They traded racks to 6-3, and Reynolds added another to stretch his lead to four games at 7-3. Shuff won two in a row to narrow that lead to two games, and Reynolds won the 13th rack to reach the hill first. Shuff came back to win four straight and force a second set.
Reynolds opened the second set with a win, but Shuff came back to break and run the second rack and add five more for a commanding 6-1 lead. Reynolds took the next game, but it proved to be his last. Shuff won three in a row to win the second set.
Cheryl Sporleder claimed the 8-entrant Second Chance Tournament title on Sunday, defeating her husband,
Sean Sporleder
twice to do it. He'd defeated her in the hot seat match 5-2, and she'd gone on to shut out
Paul Oh
in the semifinals. She returned to double dip him in the finals.