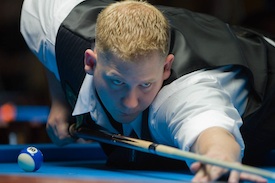 Brandon Shuff (File photo courtesy of Jeff Smith)
They'd fought to double hill in the battle for the hot seat, so when they met again in the finals of the Action Pool Tour stop on the weekend of November 12-13,
Brandon Shuff
,
Brett Stottlemyer
, and those assembled to watch were expecting a second tight battle. It didn't happen. Shuff denied Stottlemyer so much as a single rack in the event finals to complete his undefeated weekend. The event drew 59 entrants to Big Daddy's Billiards, in Glen Burnie, MD.
Shuff got into the hot seat match against Stottlemyer, having given up only six racks through five rounds of play (for a record of 40-6, including two he gave up versus
Mike Davis
in the fourth round). Advancing among the winners' side final four, Shuff met and defeated
Andy Lincoln
8-1, as Stottlemyer was engaged sending
Shaun Wilkie
west 8-4. Shuff gave up more racks in his hot seat battle versus Stottlemyer than he'd given up in his previous five rounds, total. He persevered 8-7 to gain the hot seat, and give up his last rack to an opponent.
Lincoln moved to the loss-side and met up with
Brian Deska
, who'd defeated
Alan Duty
and
R.J. Carmona
, both 6-3. Wilkie drew Mike Davis, who, after being downed by Shuff 8-2 earlier, went on to defeat
Fred Scott
6-2 and
Rafael Reyes
6-3. Davis and Deska advanced to the quarterfinals; Davis with a 6-3 win over Wilkie and Deska surviving a double hill match over Lincoln.
It was Deska who advanced to meet Stottlemyer in the semifinals, after a 6-2 win over Davis in the quarterfinals. Stottlemyer chalked up his last victory and in fact, last rack of the event with a 6-3 victory over Deska. Shuff took command, early and often, to complete his undefeated weekend with an 8-0 finals victory that left him with an overall 56-13 record (81%).