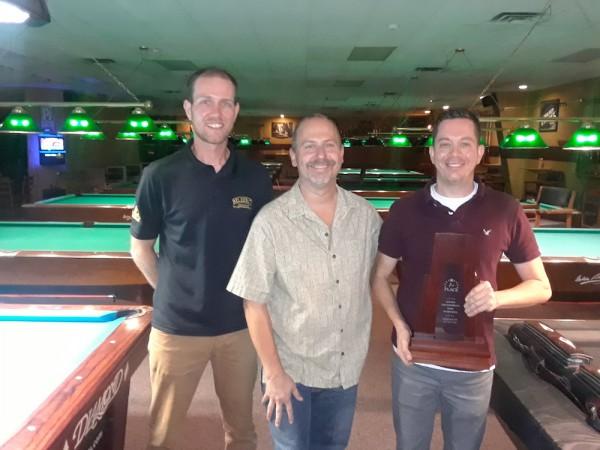 Nicolas Charette, TJs manager Steve Claude and Jeremy Sossei
Mike Zuglan
's Joss NE 9-Ball Tour kicked off their 2018-1019 season at TJ's Classic Billiards on September 22nd - 23rd for "The Maine Event XXII", and this event came down to a Joss Tour veteran against a player in their first ever regular season Joss Tour stop.
The veteran player was
Jeremy Sossei
, winner of over sixteen Joss Tour titles, who has been winning tour stops for over 10 years. Sossei has been away from the game for most of this year, with a win at the NE 9-Ball Open XXX back in February as his only appearance on the AzBilliards money list. Sossei has been spending his time on a new business that he opened, but hopes to be getting out to regularly compete again very soon.
The newcomer was Quebec's
Nicolas Charette
, who got his Joss Tour feet wet at the Turning Stone Classic XXIX, but was in Waterville Maine for his first regular tour stop. Charette credited his appearance on this weekend to his love for the game. "I just enjoy playing tournaments, competing, traveling, experiencing different conditions. But really, I love the game" he said.
The first meeting between Sossei and Charette went to the veteran 9-7 and he waited to see who he would play in the finals. Charette would face off against fellow countryman
Tom Theriault
in the semi-finals, but he would score a quick 7-3 win to earn another shot at Sossei in the finals.
Anyone expecting another close match between these two competitors was shocked to see the Canadian cueman score a decisive 9-2 win over Sossei in the first set of the finals. With the players now tied at one set each, a third set was played to determine a winner and Sossei pulled out a tight 7-5 win for Joss Tour Stop title #17.
Nine players came back on Sunday to compete in the second chance tournament where
Dan Couture
defeated Steve Reynolds two sets out of three for first place.
The Joss NE 9-Ball tour will be back in action on October 6th - 7th for the Hudson Valley Fall Classic at The Spot in Nanuet, New York.