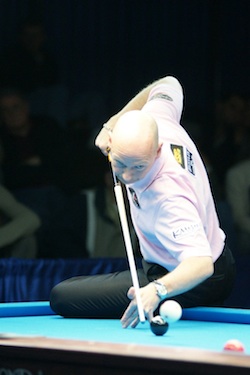 Ralf Souquet
"This will be my 15th Mosconi Cup appearance and every single time it has been some how special. I have been many times on the losing side, but it was and still is a great honor to represent your continent in the Mosconi Cup, because it's simply the best event overall.
First of all I like to play in a team and besides that, all Matchroom events are a class act to begin with. They know how to build up an event and make it exciting for both, players and spectators. Like in previous years, it will a very close decision, even though we seem to be the favorites according to the bookies.
It's basically all about playing and acting like a team which seems nowadays a little easier for us than in previous years.
The home court advantage speaks for team USA, but the results in individual tournaments speaks for us. My prediction though is another victory for team Europe, because our coach Johan Ruijsink will hit the right buttons to make us sharp.
Regards,
Ralf
Representing Team America in this years Mosconi Cup is an absolute honor. I feel privileged to be on a team with players that I have looked up to since a was a kid. Words can't describe the feelings I get when thinking about playing in the arena with the fans watching and the cameras rolling. This is defiantly what I feel all players dream about when coming up in this sport.
I keep hearing from well wishers that there will be a lot of pressure out there, but to be honest I do feel a little nervous, but this is a good thing. I haven't had this feeling in a long time and I am kind of looking forward to it. I really don't think there is any added pressure for being the rookie, its really the same on all of us.
I am just going to go out there, play the best pool I can and just have fun!
Charlie Williams
who has been picked as our coach actually seems exciting. He has had a ton a success coaching players on the WPBA and truly has done a great job so far. This being my first time, I am kind of glad we have a younger coach, I fell like he will have a better understanding for the players on both sides of the fence.
Thanks
MD