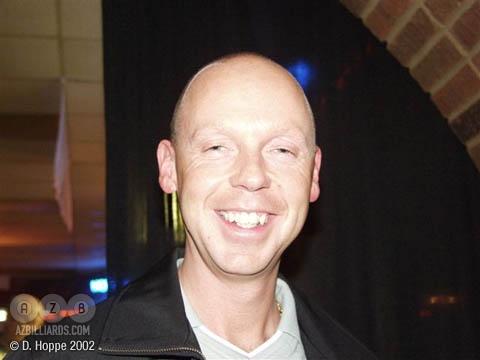 Ralf Souquet
Ralf Souquet has won his second straight IBC Title with a dominating 6-1 6-1 victory over American Johnny Archer in the finals of the IBC US Championship at JOB Billiards in Nashville, TN.
The match with Archer was no different than any other match that Souquet had as he went through the field without dropping a set and had a combined record of 73 wins and 25 losses for the entire event.
Souquet started the event with a 6-2 6-3 win over Travis Stamper from the US and followed that up with a 6-4 6-1 win over local player Bobby Pickle. Pickle had been the early talk of the tournament after his straight sets victory over Jose Parica. A 6-3 6-2 win over Tetsu Haraguchi from Japan got Souquet to the final eight and then a 6-0 6-1 victory over Jimmy Reid got Souquet to the final four. Souquet's next opponent, Edwin Montal from Canada, took Souquet to a tie-break before Souquet was able to win the first set 7-6. If Ralf has been playing strong before this set, he took it to another level afterwards as he crushed Montal 6-1 in the next set to get to the finals.
Archer started his run with a close match against Nick Van Den Berg where he saw both sets go to a tie-break before Archer was able to pull them out. Archer then scored back to back wins over Japanese players Yoshiyuki Niwa and Hiroshi Kuroda to get to the final eight. Archer's next opponent was Luc Salvas who had earlier steamrolled Nick Varner 6-0 6-2. Again Archer went to a tie-break before he could win the first set 7-6 and won the second set 6-4 to get to the final four and a match with Sandor Tot from Hungary.
Tot had been making waves in the tournament from his first match where he defeated Earl Strickland in straight sets. Just to prove the victory over Strickland was no fluke, Tot went on to defeat Paul Potier and Shannon Daulton on his way to the match with Archer. The match between Archer and Tot was close with Archer winning the first set 7-5 and Tot winning the second set 6-4 before Archer won the final set 6-4 for his pass into the finals with Souquet.
If the match with Tot was a nail biter for Archer fans, the match with Souquet was an absolute nightmare, as Archer was unable to score more than one game over Souquet in either set. This was the second consecutive IBC event where Souquet has gone undefeated without losing a set. With the win, Souquet took over the #1 position on the IBC points list.
Souquet commented after the touranment, "I didn't win a set in the first two IBC events and I told myself in Holland that something had to change. I havn't lost a set since then. I knew coming in to this event that with three of the top 4 players on the tour not being here and myself in third, I had a good chance to move to #1 with a good showing. It is a real shame that the other top players weren't here, but it was still a strong field and a real honor to win, especially on US soil. It was my first win in the US since the BCA Straight Pool event in 2000. I would like to thank my sponsors Joss Cues and Simonis Cloth for their help."
Souquet collected $7000 for the win while Archer settled for $3000 in second place money. Tot and Montal tied for third and collected $2000 each. The IBC Tour will be in Manila, Philippines on October 31st thru November 3rd for their next event.