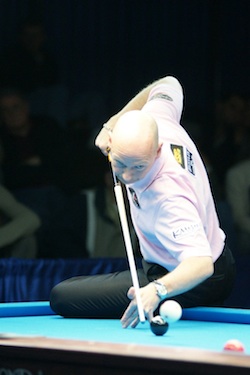 Ralf Souquet
Germany's Ralf Souquet went undefeated to claim the 2011 Open 10-Ball Pro Players Championship at the Super Billiards Expo. Souquet, who had a fifth place finish in 2009, had his eye on the prize this year. It seemed he had notable wins this weekend over nearly the entire U.S. Mosconi team, Dennis Hatch, Johnny Archer, and Shane Van Boening.

The tournament was played using WPA rules where a pocket must be called for each shot. If a ball is slopped in, the incoming player has the option to take the shot or return it to the shooter. Ironically, Souquet helped in implementing the rule.

The 2008 and 2010 champion Van Boening fought hard to defend his title but was unable to get through the steady Robb Saez who sent Van Boening to the one-loss on Saturday in a hill-hill back and forth battle. Van Boening went on to defeat Hatch with a convincing score of 10-3 while Saez and Souquet met up on the a-side. Souquet was ahead 4-0 before Saez won the next five games. The players exchanged the next few racks until Souquet played a combination on the 10 ball to pull ahead at 8-7, winning 10-7. This would give Saez and Van Boening a chance for a rematch.

Saez and Van Boening captivated fans for another hill-hill saga. Saez immediately jumped to a 5-1 lead over Van Boening. Both men appeared confident and missed very few shots. Toward the end of the set, they each hooked themselves toward the end of the rack and couldn't finish the run allowing the other to capitalize. In the final rack, Van Boening made an error that would cost him when he got poor position on the three ball resulting in a miss on the four ball. This would allow Seaz the opportunity to bank in the four and run out for another chance at Souquet.

In the finals, both Souquet and Saez appeared to be getting fatigued the percentage of errors were increasing. Souquet remained ahead for the entire match and Saez struggled to close the gap. While down 8-7, Saez had an opportunity but was unable to capitalize, missing the one ball and giving the rack to Souquet. Another miss on the one ball would allow Souquet to get to the hill first and ultimately the match and title. Final score: 13-8.

Special thanks to John Sturgis (www.johnsturgisphotography.com) for the great photos and assistance this weekend.