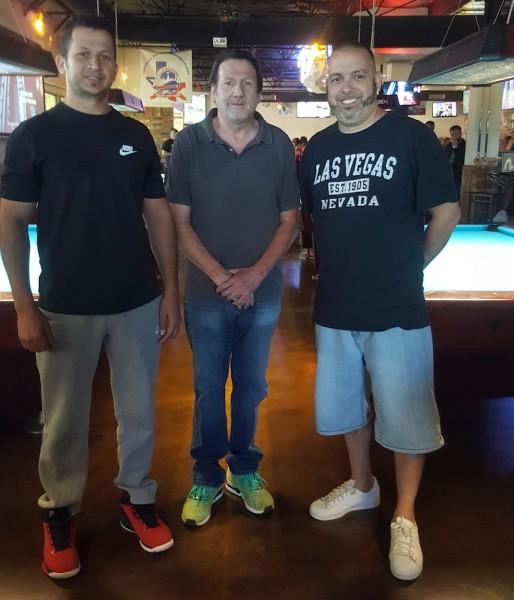 (l to r): Tony Top, TJ Davis, Rick Stanley
Rick Stanley
cemented his hold on the top spot in the Omega Billiards Tour rankings with an undefeated win on the weekend of October 14-15. It was his fourth overall win on the tour since February, and his third undefeated trip. The $1,700-added event drew 64 entrants to The Hideaway in Dallas, TX.
Stanley had to face a relatively unexpected opponent in both the hot seat match and finals.
Tony Top
, who made his first appearance on the 2017 tour in September, finishing well out of the money, successfully navigated his way through six opponents – five on the winners' side and one on the loss side – to challenge Stanley and in finishing second, rocketed from #170 on the rankings list to somewhere among the tour's top 40 players.
Following victories over
Frank Cherry
,
Robert Reighter
,
Robin Barbour
, and
Gerardo Perez
, Stanley moved into a winners' side semifinal match against
TJ Davis
. Top, in the meantime, having defeated
Curtis Cardwell
, Highway Sigadi,
Mike Nagaki
, and
Robert Clark
, faced
Hector Guerrero
in the other winners' side semifinal.
Stanley sent Davis to the loss side 9-3, as Top was busy sending Guerrero over 7-3. In their first of two, Stanley claimed the hot seat over Top with a 9-4 win.
On the loss side, Davis picked up Robert Clark, who, following a defeat at the hands of Top in one of the winners' side quarterfinals, had defeated
Mike Voelkering
(#2 in the tour rankings) 8-3 and
Alberto Nieto
8-1. Guerrero drew Gerardo Perez, who'd dropped a winners' side quarterfinal match against Stanley and then, over the next two matches, gave up only two racks; none at all to Michael Thomas and two to Curtis Cardwell.
Davis downed Clark 8-4 and advanced to the quarterfinals. He was joined by Perez, who'd eliminated Guerrero 7-4. Davis ended Perez' three-match, loss-side streak 8-6 in those quarterfinals, and then had his two-match, loss-side streak ended in a double hill battle against Top.
The wait did nothing to slow Stanley down. He'd given up four racks to Top in the hot seat match, and reduced that number to one in the finals, claiming the event title.
Tour director
Melinda Bailey
thanked the ownership and staff at The Hideaway, as well as sponsors Michael Hoang of OMEGA Billiards Supply, FargoRate.com and OB Cues. The next stop on the Omega Billiard Tour, scheduled for November 11-12, will be a $1,700-added event, hosted by The Billiard Den in Richardson, TX.