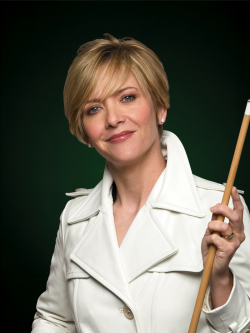 Allison Fisher
Beijing, China- Star Tables has signed on 15 times World Champion Allison Fisher as one of their official spokespersons . Allison Fisher will be representing Star Tables worldwide at all of her tour events and appearances in a multi-year deal. Star is one of China's most recognized billiard brands in both pool and snooker.

"I've been familiar with Star Tables for years now, and have performed well on their equipment. Star's growth in snooker and pool compliments my background in both games very well. I'm very happy to be with them and look forward to the years ahead," said Allison. Fisher has been a finalist twice now in China in Star sponsored events which includes The World 9-Ball Championship and The China Open.

"Many companies were interested in Allison after her first few competitions in China, but she was always drawn to Star Tables. After all of us getting to know each other well, it was an obvious fit. Being together will only strengthen their brand names", commented Charlie Williams, Founder of Dragon Promotions which represents and manages Fisher.

Any pool or snooker fan who has ever been to China would be hard pressed to not know the Star brand. Star Tables and its parent company XingWei Sports Goods has been in business for over 20 years. Most of the high profile and televised events in China are sponsored by Star Tables along with a large, healthy contingent of professional players supported by the table giant.

"Star Tables is very happy with Allison Fisher joining our company. She is one of the greatest players in the world and a legend in the sport. We look forward to a long and prosperous relationship together in promoting Star tables in China and the rest of the world", said Raymond Guan Director of Marketing & Brand Manager.