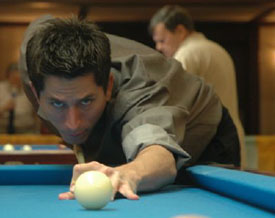 Stevie Moore
Stevie Moore proves once again why he is the most dominant player on the SPT today.  The past two years he's finished a very close runner up to Corey Deuel in the player rankings. Taking into account that he missed two tournaments each of those two seasons, one can argue that this year does not bode well for any comers wishing to take down that prestigious prize, especially since Stevie himself says he won't be missing many events this year and is coming for the top spot.

Stevie started off on the right foot in his first match with a powerful 7-0 win over George McLanahan. But that was not the only bagel he dropped during the tournament, even more impressive was the 8-0 barn burner he put on Mike Davis. He followed that exhibition with another impressive win over Justin Hall to earn himself a spot in the finals.

Although Stevie continues to control the leader boards on the Seminole Pro Tour there are some new names coming to fruition as well. The Seminole Pro Tour has a bright future ahead of itself with the young and talented players who round out the fields. In fact three of the top 12 finishers at this stop were 21 years of age! Young guns Justin Hall, Yu Ram Cha, and Raymond Linares show that there is definite power in youth.

Most notably was Justin Hall, who displayed some tremendous shot making ability en route to a hot seat match up with top dog Stevie Moore. Justin by no means had an easy draw either. He had dominating wins over Ronnie Wiseman 7-2, Donnie Mills 7-3, Brian Brekke 7-2, and came out on top against Louis Altes 8-6.

Another surprising name atop the charts was Miami's Jerry Calderon who had a very strong showing at Hammer Heads. Calderon had some mega matches in this tournament including a crushing 8-2 win over Adam Wheeler, an 8-1 blowout over Han Berber, and a sizzling 8-4 thumping of Mike Davis.

Calderon had his tournament come to an end in the semi-final match against Justin Hall. After Being Down 7-3, Calderon battened down the hatches and won 3 games on the trot.  It looked like Calderon had regained all the momentum and was going to pull off a spectacular comeback, however after a slight positional error on the nine ball and a rushed shot to get position on the last ball, Jerry found himself on the short end of a bad roll after colliding with the ten. In his way was a slightly off angle bank into the corner, and with all the conviction he could muster he fired at it, to the crowd's disbelief it hung in the jaws of the cruel diamond table.

Appreciative of his effort, the crowd gave Jerry a stirring send off, and for his efforts he received his first top 3 finish on the Seminole Pro Tour.

So the finals would be a rematch of the Hot Seat match between Justin Hall and Stevie Moore. It was all Stevie Moore at the beginning, Justin didn't even get to the table until Stevie had put a three pack together. Moore continued to stretch his lead throughout the set. Despite a late charge from Hall, it seemed that the match was never out of Stevie's control and he would be the eventual winner with a score of 9-5.

With consistently higher finishes  while being surrounded by such class talent, there is no telling how soon one of these players will take down the whole thing. This wonderful blend of established veterans and developing players provides for a wonderful dynamic making the SPT truly one of a kind.

Our next stop will be at Capones Billiards in Spring Hill Florida. Rocky McElroy and his staff always provide great service, and there promises to be more than one's fair share of action in that tournament as well. It seems like every tournament this season gets better and better. Make sure to come out and enjoy the festivities.

Many thanks to Dan Lavoie and his excellent staff at Hammer Heads Billiards Lounge; undoubtedly one of the finest rooms in the state and a wonderful place to visit.

Also we'd like to thank the Seminole Tribe of Florida for their continued support of the 10 ball tour; without which all this would not be possible.