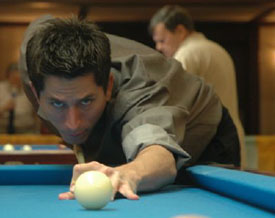 Stevie Moore
The Great Southern Billiard Tour rolled into Diamond Billiard Club in Chattanooga, Tennessee the weekend of July 14-15, 2007. This was the eleventh stop for the tour and was appropriately entitled The Choo-Choo Classic IV.
The event brought out a talented field of forty-one players, including Shannon Daulton, Stevie Moore, Johnathan Hennessee, Cliff Joyner, Doug Young, Billy Young, Louis Ulrich, Bill Bailey, and Russ Edwards.
With a packed room on Sunday (and great food to boot), the spectators got to see some great match-ups from the remaining sixteen players:
The winners side of the chart read:
Dave Crockett defeated Barry Boney
Stevie Moore defeated Cliff Joyner (9-6)
Shannon Daulton defeated Russ Edwards (9-5)
Louis Ulrich defeated Johnathan Hennessee (9-5)
Setting the stage for matches between: Dave Crockett/Stevie Moore (Moore won 9-4); and Shannon Daulton/Louis Ulrich (Ulrich won 9-7).
The one-loss side of the chart read:
Kim Bennett defeated Steve Darlin
Eddie Little defeated Harold McAbee
Doug Young defeated Mike Laney (7-6)
Billy Bailey defeated Neal Pemberton
Johnathan Hennessee then defeated Eddie Little 7-4, Doug Young took out Cliff Joyner 7-0, Billy Bailey over Barry Boney 7-0, and Russ Edwards progressed over Kim Bennett 7-4.
Setting the stage for matches between: Russ Edwards/Johnathan Hennessee (Hennessee won 7-6); and Doug Young/Billy Bailey (Bailey won 7-1).
After an already eventful day, the one-loss side saw Shannon Daulton and Billy Bailey play (Bailey won 7-1) and Johnathan Hennessee and Dave Crockett play (Hennessee won 7-2); leaving Bill Bailey and Johnathan Hennessee to fight it out on the one-loss side to play in the finals (Bailey won 7-2). On the winner's side, Stevie Moore and Louis Ulrich played and it ended with Moore taking the match with a score of 9-3.
The semi-finals saw Louis Ulrich play Billy Bailey, with Ulrich prevailing. The finals were then set with Stevie Moore and Louis Ulrich in this true double elimination match. Unfortunately, Louis did not have a chance to fight this one out as Stevie won the first set with a score of 9-5. Congratulations to Stevie and Louis as they both played great this weekend!
The next stop of The Great Southern Billiard Tour will be a $1500 added event at Breakers in Knoxville, Tennessee next week.
File photo courtesy of Diana Hoppe - Pool Pics by Hoppe