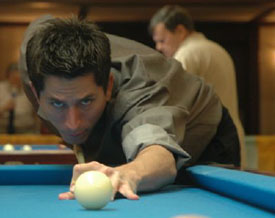 Stevie Moore
Starcade Billiards had their Andy Grubb Memorial tournament this past weekend in Fort Walton Beach, Florida. The event drew in a field of 61 with such players as Stevie Moore, Tommy Kennedy, David Grossman, Scotty Townsend, Josh Hillard, Stoney Stone, Mitch Yarbrough, Trent Pamplin and Pablo Matheu.

It was a tough road for anyone as the players were evenly spread out through the brackets. Stevie received his first loss four matches in, at the hands of Scotty Townsend who was on a tear. Prior to that match, Scotty sailed through Tommy Kennedy by a score of 9-0 and Moore defeated Ronnie Woodham. In the other bracket Stoney Stone was in high gear and ran a six pack on Grossman with a final score of 9-7 in favor of Stoney. Prior to this match, Grossman defeated Hillard by a score of 9-6 and Stony pulled out a 9-7 grinder over Yarbrough.

On the one loss side Kennedy found his second loss from John Amiss with a close score of 9-7. Hillard defeating Ronnie Woodham 9-7 and Johm Amiss 9-5. Pamplin rolled over Wayne Thompson 9-5 and Mitch defeating T.F. Whittington 9-5. This left the field with only 6 players.

Kicking off for the hot seat was Scotty Townsend and Stoney Stone. It was a true coin flip match with both players playing well, but Scotty found a way to keep control of the match and claimed the seat by a dominating 9-4 win.

Stoney now waited in the wings for his next opponent. It left a Moore vs Yarbrough, Grossman VS. Hillard match up. Grossman saw no problems in his match, playin well and winning 9-3 but that wasn't the case for Moore. Yarbrough was on a mission and determined to serve Moore his second loss.

Playing extremely well and holding his control of the match, Yarbrough kept a two game lead until late in the set when Stevie played a safe leaving Mitch no option but to go for it. Pulling out his jump cue, He jumped the ball in with ease only to receive a bad roll and scratch. From there Stevie showed his true form and took down the match 9-8.

Stevie Moore continued his solid play taking down the next two matches over Grossman & Stoney with neither opponent getting past five games.

This left the single race to twelve finals against Scotty "The Wizard" Townsend, a treat for everyone watching. Scotty came out of the box in full speed dominating the set with a score of 6-2 with Stevie on the side lines a little cold from lack of shooting. Scotty was running out like water, but an unfortunate miss on the 7 ball gave Moore a chance to show what he's made of.

Moore proceeded to put a pack together along with some fine safety play and we come to a tied up 7-7 score. Trading games back and forth, the score was 10-9 in Scotty's favor and he was looking at a wide open table with a shot to get on the hill. An unexpected miss on the one ball left Stevie straight in and that was all he needed. Scotty wouldn't shoot again and Moore would earnl the win by a final score of 12-10.

Congratulations to everyone who placed in the money. Thank you to Rick Gordon for helping run what was a very smooth event and of course thank you to Stevie & Scotty for giving everyone such a great final match.