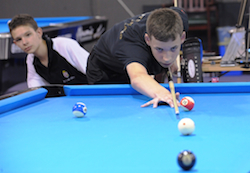 Joshua Filler (GER) Foto: EPBF/DK
Filler eliminates Szolnoki in an epic thriller

Friday, 27 July 2012: In a real high level match in the pupils division, Joshua Filler
(GER) eliminated Oliver Szolnoki (HUN) from the straight pool tournament.

The early phase of the match belonged to Szolnoki. He got a 25:2 lead over Filler and seemed to dominate over the young German. But then Filler got into gear and it seemed as if he developed more and more self-confidence. However, whenever Filler was about to start shooting, he made a mistake and lost his rhythm through silly mistakes. Szolnoki benefitted from that. He managed to keep the match open for quite a long time. After several innings which were mainly determined by safety play, the score was tied at 35:35. Filler has equalized Szolnoki's advantage and seemed to be on the role now. But whenever one thought that he would start shooting some balls, he made a mistake. However, Filler played the better safety shots and almost always came out as the winner from the safety duels that the two had. At a score of 57:54 for Filler, Szolnoki misses a makeable shot. Filler pockets one ball and then the balls were racked. He pocketed the break ball but found himself in an awkward position. Again, he played the better safeties and won another safety play over Szolnoki. This time Filler made no mistakes and got a advantage of 71:54 over Szolnoki before the next safety duel started. That was obviously too much for Szolnoki to handle. He succumbed again to Filler's safety play and Filler took the match with 75:54. Filler advances to the quarter-finals of the straight pool discipline which will be played tomorrow at 15:00 CET while Szolnoki leaves the discipline and comes in 9th place.

Other notable results include Jan van Lierop (NED) defeating Daniel G.ttenberger (AUT) in the same round with 75:58

In the junior's division, Wojciech Szewczyk (POL) creams Kenneth Ohr (AUT) 100:13 and advances to the last 16 players in the straight pool discipline. The dark horse of the event, Berk Mehmetcik (TNC) wins again. This time his victim was Marcel Fortunski (POL) with 100:47. Mehmetcik will meet Vitaly Pavlukhin (RUS) in the quarter-finals. Pavlukhin eliminated his fellow countryman Andrey Seroshtan with 100:37.

The event is hosted by the European Governing Body for Pool, the European Pocket
Billiard Federation (EPBF) and organized by International Billiard Promotion (IBP). For further information and reference please go to the federation website www.epconline.eu , follow us on twitter @EPBF_News or contact our press office.