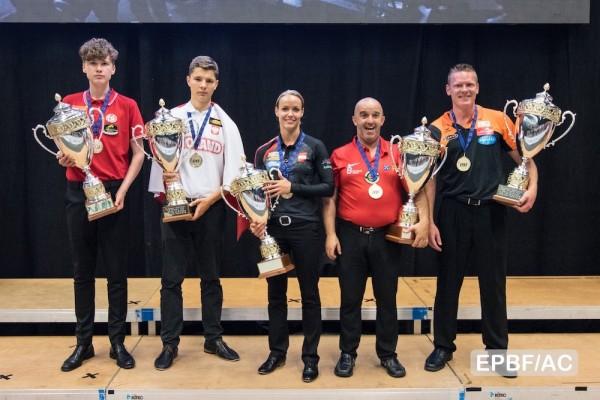 Straight Pool Champs 2018 (left to right) C. Lentz, W. Zielinski, J. Ouschan, H. Correia & N. Feijen
The straight pool individuals at the Dynamic Billard European Pool Championships 2018 in NH Conference Centre Koningshof, Veldhoven, The Netherlands, are finished and the titles have been awarded to the winners.
In the men's division, "The Terminator"
Niels Feijen
(NED) managed to defend his title from last year. He got wind underneath his wings by playing on his home turf. He defeated
Albin Ouschan
(AUT) with 125:73 in the final match. "I had a lot of pressure on my shoulders during this discipline", stated Feijen after the match, "in order to maintain my A-status with the Dutch Olympic system, I needed a medal. However, whenever I play an event, I don't want to win 'a' medal. I always go for the gold", added Feijen.
Top 4 Men
1. Feijen, Niels NED
2. Ouschan, Albin AUT
3. Stepanov, Konstantin RUS
Skoneczny, Mariusz POL
In the women's division,
Jasmin Ouschan
(AUT) conquered the title from
Kristina Tkach
(RUS) with an impressive 75:12 victory in the final match. "After losing to Kristina in the final last year", Ouschan said, "we had a score to settle". Ouschan lost last year's final match to Tkach and that fact makes her victory even sweeter this year.
Top 4 Women
1. Ouschan, Jasmin AUT
2. Tkach, Kristina RUS
3. Feldmann, Christine SUI
Polovinchuk, Kateryna UKR
In the senior's division, the title was taken by
Henrique Correia
(POR). He outplayed
Sandor Tot
(HUN) in the final match with 100:68. The two contestants both have titles under their belts. In fact, Tot won the title in 2016 while Correia grabbed it in 2015. Today, Correia was the stronger player and left no chance to the Hungarian.
Top 4 Seniors
1. Correia, Henrique POR
2. Tot, Sandor HUN
3. Vatne, Didrik NOR
Habo, Alex HUN
In the U17 division, Christoffer Lentz (DEN) defeated Jere Virtaranta (FIN) with the clear result of 75:20 in the final match.
Top 4 U17
1. Lentz, Christoffer DEN
2. Virtaranta, Jere FIN
3. Mittcev, Nikita RUS
Pongers, Quinten NED
In the U19 division, Poland's youth superstar player and ACC team member
Wiktor Zielinski
(POL) performed brilliantly and won the final match 100:45 over Ilia Nekleenov (RUS).
Top 4 U19
1. Zielinski, Wiktor POL
2. Nekleenov, Ilia RUS
3. van Lierop, Jan NED
Pehlivanovic, Sanjin BIH
Medal table after 1 of 5 events
[photo id=49650|align=right]
The Dynamic Billard European Pool Championships 2018 will commence tomorrow morning at 09:00 CET with matches in the 10-ball individuals competition.
The Jubilee Championships are played on 60 tables which are all streamed LIVE throughout the whole event. In order to be able to follow all the action LIVE, premium membership can be obtained at www.kozoom.com. Once a premium membership is held, all events for the respective period of time can be viewed LIVE. Additionally, a huge video gallery is contained in the website.
The event is hosted by the European Governing Body for Pool, the European Pocket Billiard Federation (EPBF) and organized by International Billiard Promotion (IBP). For further information and reference please go to the federation website www.epconline.eu or visit us on Facebook for regular news clips or contact our press office press@epbf.com.