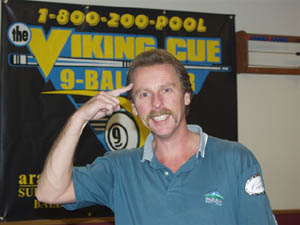 Earl Strickland
Saturday play at the Big Orange Classic Main Event ended early, but not before Earl Strickland made his presence known.
Earl faced off against Keith Bennett on the winners side early on Saturday and the match started close at 1-1, but after that it was the 'Earl Strickland Show' as Earl ran four racks, played a safe and then ran four more for the 9-1 win.
Earl didn't cool off after that win, as he came back for the midnight madness event along with Stevie Moore, Chris Bartrum, Jonathan Hennessee, Bobby Pickle, Jerry Slivka, Paul Turner and Bennett.
Strickland went through Bennett, Bobby Pickle and Jonathan Hennessee to win the $4000 winner take all event.
Play resumes at 12:30 on Sunday with twelve players in the main event. Strickland will face Chris Bartrum in one winners side match while Stevie Moore faced Brian Capps in the other. Jonathan Hennessee, Jerry Slivka and Bobby Pickle are amongst the players still fighting on the one loss side.
Online brackets are updated with all of Saturday's matches.
Photo courtesy of Diana Hoppe - Pool Pics by Hoppe