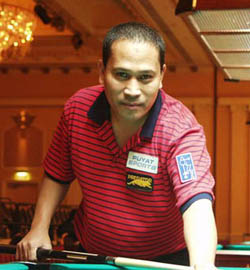 Ramil Gallego dominated Strickland
Two of the greatest pool players today, five-time world champion Earl "The Pearl" Strickland and German ace Ralf "The Kaiser" Souquet suffered stunning defeats and were ousted on the opening day round of 32 in the Café Puro sponsored 1st Philippine Open and Invitational 9-Ball Championship staged at the Octagon Hall of Robinson's Galeria Shopping Mall, yesterday.
Souquet was the first to go after he was upset 9-3 by comparative unknown Rene Cruz who qualified through the loser's bracket in a pre-tournament competition. On three visits to the table in the alternate break format, Souquet, the US Open Champion failed to pocket a ball enabling Cruz, who partnered Efren Reyes to win the snooker gold medal in the Southeast Asian Games in Jakarta, Indonesia in 1987 to score a comfortable victory that gave Filipino players a great start in the $64,000 tournament put together by well-known billiards patron Aristeo "Putch" Puyat.
Souquet who later had to content himself by doing the television commentary for the match between Strickland and Ramil Gallego said he was "a little unlucky when I scratched twice and didn't get any rolls." However, Souquet took nothing away from the fine performance of Cruz who didn't appear awed by having to play the multi-titled German who was last year's International Billiard Congress "Player of the Year" although Cruz conceded that Souquet was "unlucky."
If the defeat of Souquet shocked pool fans, the complete rout of Strickland, five-time World Pool Champion and recent winner of the Viking Cue 9-Ball Tour in which he beat Shawn Putnam in the finals, was unbelievable. Ramil Gallego who has played consistently well in the elimination stages at Cardiff who also entered the final 32 via the qualifying tournament put on what Souquet described as "a great performance" to whip Strickland 9-1.
The temperamental Strickland was never in the match at all whereas Gallego who said he "prepared for him" played excellent pool, breaking solidly and pocketing with precision. Gallego, aided by Strickland's erratic play which included a scratch on the break raced to a 6-0 lead before Strickland pulled one back to the relief of the crowd. But that's as far as he got.
The sometimes temperamental American ace had three chances to break in the first six racks but failed to capitalize on the opportunities allowing Gallego to run-out rack after rack with comparative ease. Strickland was also unlucky. With a makeable shot on the 9-ball when he was down 7-1, Strickland over-cut his shot and saw the nine linger on the lip of the corner pocket allowing Gallego to pounce on the chance to get to the hill 8-1 before ending Strickland's agony by running out the final rack for a 9-1 triumph.
Gallego who recalled beating Strickland 9-5 in the 2001 Japan Open said Strickland appeared to lack the fire normally associated with him and "looked lazy." Gallego also pointed out that "catching up in the alternate break format is difficult."
Hometown hero Efren "Bata" Reyes wove some of his magic in beating Chinese-Taipei's Chun-Chong Liu 9-6 while his longtime buddy Francisco "Django" Bustamante beat countryman Florencio Banar handily, 9-3. Reyes hurridedly flew back to Manila to catch the action after winning the All Japan Champioship in Osaka beating Tasui Nishio in the finals 11-7 to pocket the top prize of $18,000. It was "The Magician's" third All-Japan crown.
Leonardo "Dodong Dadjangas" Andam, making one of his rare appearances after a layoff scored a masterful 9-5 win over Chinese-Taipei's fancied Hsia Hui Kai and will next face giant-killer Cruz in the round of 16. The other giant killer Gallego will face top Japanese star Satoshi Kawabata who earlier annihilated unheralded Filipino Jerome Pena 9-1.
Former US Open Champion Corey Deuel who reportedly spends more time on the golf course than the pool table showed he had not lost his great break and pocketing skills by easing past the Philippines Jun del Mazon 9-6 but Sweden's Marcus Chamat, a regular Manila visitor lost a heartbreaker to Chinese-Taipei's Chia Ching Wu 9-8.
South Korea's Park Shin Young also moved into the round of sixteen with a comfortable 9-6 victory over Filipino snooker ace Marlon Manalo 9-6.
Report courtesy of Ronnie Nathanielsz, Photo courtesy of Diana Hoppe - Pool Pics by Hoppe