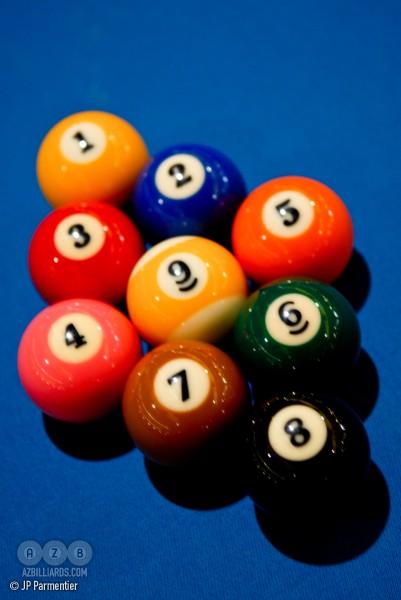 Timothy Clark, who, according to our records, had never received any level of cash prize for playing pool before, did so this past weekend (Sun., July 17) on the Garden State Pool Tour. He went through a short field, undefeated, to not only earn himself a cash payout, but to win the event, his first (recorded) anywhere. The same could be said for his opponent in the hot seat match and finals, Giancarlo Delgado, who recorded his first cash payout by being the runner-up. The C/D -Ball event drew 16 entrants to Black Diamond Billiards in Union, NJ.
Clark opened what turned out to be his first winning campaign with two 6-3 victories over Kervin Santamaria and Benjamin Zimmerman to arrive at a winners' side semifinal against Jay Pass. Delgado opened up with a 5-2 win over Tom Paylou and followed up with a 6-1 win over John Egeln to arrive at his winners' side semifinal against Alex Vangelov.
Clark and Pass battled to double hill, before Clark finished it to advance to the hot seat match. He was joined by Delgado, who'd sent Vangelov west 5-2. Clark claimed his first hot seat with a 5-2 win over Delgado. 
On the loss side, Pass picked up Sung Lee, who'd lost his opening match to Zimmerman and was working on a three-match winning streak that had recently eliminated Gary Johnson 6-4 and Nicole Adams 7-1. Vangelov drew Paylou, who'd also lost his opening match (to Delgado) and was working on his own three-match winning streak in which he had given up a total of only three racks over 21 games, including none at all to Luigi Damion and one to Jorge Cappillo.
Pass and Lee battled to double hill before Lee prevailed, advancing to the quarterfinals. He was joined by Vangelov, who'd defeated Paylou 5-3. Vangelov ended Lee's loss-side run in those quarterfinals 6-3. 
The semifinal rematch between Vangelov and Delgado went double hill, before Delgado finished it for a second shot at Clark, waiting for him in the hot seat. The momentum of winning a double hill semifinal didn't seem to help Delgado much, as that second shot turned in to a second victory for Clark, who gave up one less rack in the final than he had given up battling for the hot seat. He claimed the event title 5-1.
The next stop on the Garden State Pool Tour, scheduled for this weekend, Saturday, July 23, will be an A/B/C/D Women's Amateur event, hosted by Shooter's Family Billiards in Wayne, NJ.