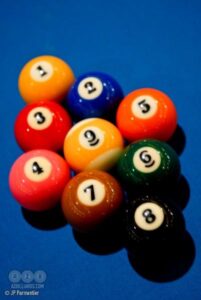 Cathy McDaniel sat in the hot seat during Stop #2 on the Midwest Ladies Regional Tour, held on the weekend of March 19-20, as Julie Cooper worked her way through the loss side for an eventual matchup in the finals. McDaniel prevailed in that final match to complete an undefeated run through a field of 16 that had gathered for the $500-added event, hosted by Michael's Billiards in Fairfield, OH.
McDaniel got into the hot seat match with a 7-5 victory over Amee Schmidt in a winners' side semifinal, as Charlotte Ashley was defeating Erin Glenn 7-3 to join her.  McDaniel claimed the hot seat 7-4 over Ashley and waited on Cooper.
It was Glenn who drew Cooper on the loss side; Cooper, having eliminated Christy Dickerson 6-1 and Connie O'Heron 6-4 to reach her. Schmidt picked up Deborah Cervantes, who'd defeated Kathy Quass 6-1 and Angela Mears, double hill.
Cooper's loss-side run continued with a 6-2 victory over Glenn. Schmidt downed Cervantes 6-4 to join Cooper in the quarterfinals. Cooper then eliminated Schmidt 6-4, and earned her spot in the finals with a 6-2 victory over Ashley in the semifinals.
Cooper's run ended in those finals. McDaniel completed her undefeated run with a 7-4 finals victory to claim the title.
Tour representatives thanked the ownership and staff of Michael's Billiards, as well as sponsors McDermott Cues, Poison by Predator, Simonis Cloth, Ozone Billiards and Inside English. The next stop on the Midwest Ladies Regional Tour, scheduled for April 9-10, will be hosted by Snookers' Pool & Pub in Livonia, MI.