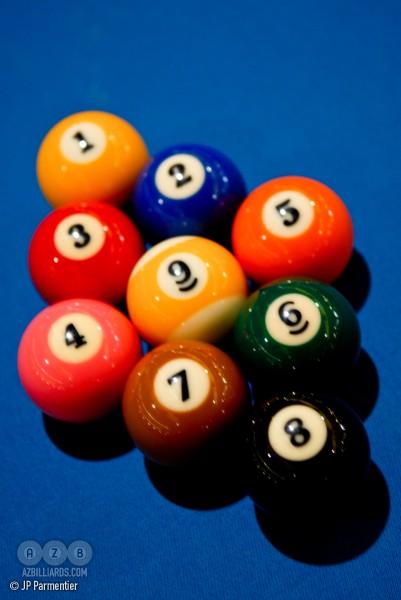 By their design, split/separate brackets in a tournament are intended to keep the lower-ranked (Fargo-rated) players separated from their greater-skilled (higher Fargo-rated) brethren until late in the event process. This avoids circumstances that would force a mythical, low Fargo-rated 'John Smith' from paying an entry fee and then drawing Shane Van Boening in an opening round of play. Players in the separate brackets compete against similarly-rated players until the two brackets get closer to the end, at which point, our mythical 'John Smith' might be slated to play Shane Van Boening anyway, although at a point when 'John' has presumably played and won a series of matches that have at least allowed him to practice a little before doing so.
Chris Farrell started out in the lower bracket (525 & lower Fargo Rate) at this past weekend's (Feb. 4-5) stop on the Garden State Pool Tour and thanks to the efforts of a fellow, lower-bracket competitor (Juan Taveras), faced a competitor from the upper bracket (526 to 675) only once, battling for the hot seat. Taveras lost his opening match in the lower bracket to Mike Strassberg and then proceeded to win eight on the loss side for the right to meet Farrell in the finals. Farrell went undefeated through the field, downing Taveras in the final. The $150-added event drew 37 entrants (17 upper bracket and 20 lower bracket) to Breaker Billiards in Clifton, NJ. 
Farrell's path went through Gil Costello, Bob Toomey and Brenda C. Martinez, arriving at a winners' side semifinal against Brook Villa. Christian Taeza, in the meantime, working initially from the upper bracket, received an opening round bye before sending Jim Conn, Alfredo Altamarino and Frank Rodriguez to the loss side and picking up Bill Meima in the other winners' side semifinal.
Farrell downed Villa, double hill, advancing to meet his only upper bracket opponent, Taeza, who joined him in the hot seat match after defeating Meima 6-3.
On the loss side, Meima drew an immediate rematch against Rodriguez, who'd moved to the loss side and defeated Jim Conn, double hill, and Levi Lampaan 4-4 (Lampaan racing to 6). Villa drew Taveras, who was five matches into his loss-side streak and had recently won his rematch against Strassberg 6-2 and downed Martinez, double hill.
Taveras chalked up loss-side win #6, defeating Villa 6-2 and was joined in the quarterfinals by Meima, who'd sent Rodriguez home 5-3. Taveras then gave up only a single rack to Meima in those quarterfinals.
Taveras also gave up just a single rack to his upper bracket opponent in the semifinals, Christian Taeza before advancing to meet Farrell in the finals. Farrell completed his undefeated run with an 8-6 win in that final match to claim the event title.
Tour director Dave Fitzpatrick, assisted by Jennifer Pedutem, thanked the ownership and staff at Breaker Billiards for their hospitality, along with sponsors Billiards Engineering, JFlowers Cues and Cases, IntheBX, Off the Rail Apparel, Kamui, John Bender Custom Cues and Outsville. The next stop on the Garden State Pool Tour, scheduled for the weekend of Feb. 25-26, will be hosted by Diamond Jim's Billiards and Pub in Nanuet, NY.