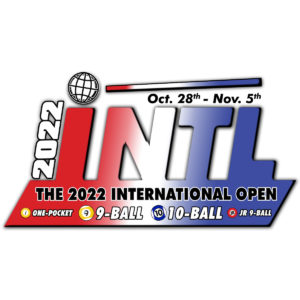 Some expected and not-so expected advances highlight Day One of the 128-entrant 9-ball event  
Surprises?
At the level of talent on display at this week's (Oct. 28-Nov. 5) International Open in Norfolk, VA, it's hard to single out any one match in the event's opening round of play and call the result a surprise. One's reaction to a given result will depend largely on an individual's perception of the players involved and their own sense of how a match between them would play out. This, in turn, might reveal more about the person being surprised (or not) than it might about the match result.
As a random example from the International Open's first event of the week, the $10,000-added One Pocket tournament won by T-Rex (Tony Chohan; see story elsewhere in our News). If you haven't already seen the results, imagine the semifinal match between Sky Woodward and Fedor Gorst, won by Woodward. Surprised? 
Round one of the Open's $50,000-added, 128-entrant 9-Ball tournament is over. We offer a short and not comprehensive list of matches from the round, and without looking it up through our links to the bracket, pick a winner, find the result and then determine whether it's a surprise to you. An indication (J) identifies the player as a junior competitor. Results at the end of the report.
Tapei's Hsieh Chia-Chen vs. Switzerland's Dimitri Jungo (winner of last week's American Straight Pool Championships in Virginia Beach)? Jesus Atencio vs. (J) Kashton Keeton? Earl Strickland vs. Taipei's Hsuan Wei Kuo? Brandon Shuff vs. Russia's Kristina Tkach, crowned as the Women's 2022 Straight Pool Champion last week in Virginia Beach? Hunter Lombardo vs. Shane Wolford? BJ Ussery, Jr. vs. Chris Rienhold? Corey Deuel vs. Sharik Sayed? Poland's Mieszko Fortunski (semifinalist at the Straight Pool Championships) vs. Matt Krah? Vietnam's Brian Vu vs. (J) Payne McBride? Justin Martin vs. Lukas Fracasso-Verner (former J)? 
Among those whose victories in the opening round were not likely have been a surprise to anybody were: Jayson Shaw's win over John Francisco, Spain's David Alcaide (the last piece added to Europe's Mosconi Cup team puzzle), who defeated USA's Sullivan Clark 10-6, Sky Woodward's victory (albeit, double-hill victory) over Italy's Francesco Candela, Fedor Gorst's win over Curucao's Bryan Farah 10-7 and Joshua Filler's shutout victory over USA's Christopher Pyle. There are, of course, others who have advanced on the winners' side, which, for purposes of brevity, we'll restrict to those not listed above who are among the top 10 in our Money Leaderboard: Spain's Francisco Sanchez-Ruiz, Greece's Alex Kazakis, Austria's Albin Ouschan and the Philippines' Roberto Gomez.
Among the key matchups highlighting Round Two today (Tuesday, Nov. 1) will be 6 p.m. battles between Alex Kazakis and veteran US competitor Raymond Linares, junior competitor Joey Tate's matchup against Kuwait's Abdullah Alyousef, Sanchez-Ruiz versus Justin Martin,  Roberto Gomez against Alex Pagulayan and junior competitor Payne McBride taking on Straight Pool Championship runner-up, Mieszko Fortunski. At 8 p.m., Albin Oushcan will take on Thorsten Hohmann, David Alcaide faces Josh Roberts, Hungary's Vilmos Foldes will go up against Taipei's Ko Pin Yi, and the winner of the Strickland/Hsuan Wei Kuo match (revealed below) versus Taipei's Hsieh Chia-Chen (all 8 p.m.). At 10 p.m., Round Two's winners' bracket will continue with Tony Chohan against last week's Straight Pool Championship runner-up Wiktor Zielinski, Jayson Shaw will meet the winner of the Shuff/Tkach match (revealed below), Ralf Souquet will go up against BJ Ussery, Alex Pagulayan will take on Roberto Gomez and Sanchez-Ruiz will battle Justin Martin. 
('Surprise?' results from above: Junior competitor Kashton Keeton defeated Jesus Atencio 10-6,  Strickland got by Wei Kuo 10-5, Taipei's Chia-Chen sent Dimitri Jungo to the loss side 10-7, Shuff beat Tkach 10-8, Lombardo over Wolford 10-6. Ussery over Reinhold 10-9, Sayed downs Deuel 10-6, Fortunski gets by Krah 10-7, Junior competitor Payne McBride defeats Brian Vu 10-2 and Justin Martin moves on with a double hill win over Lukas Fracasso-Verner.) 
Fans can watch not only the featured table with full commentary, but also any other table at the event with the Accu-Stats PPV coverage. They can also follow all of the action online with real-time scoring and online brackets all week long.
PPV Coverage
One Pocket Stage One Online Brackets
One Pocket Stage Two Online Brackets
Big Foot 10-Ball Brackets
9-Ball Brackets
Real Time Scoring