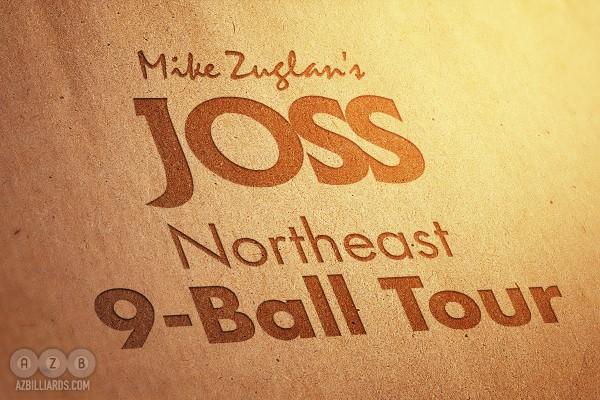 Everyone,
Congratulations to stop 9 winners, Lukas Fracasso-Verner ($3,500 & 34th Ocean State 9-Ball Champion) & Francisco Cabral ($340 Second Chance)
Congratulations to Turning Stone Classic XXXVI 9-Ball Open Champion Jayson Shaw ($10,000 & his 9th win!!), Landon Hollingsworth ($500 Second Chance) & $1,900 Joss Cue Raffle Winners, Suzzie Wong & Tim Spohr
The Joss Northeast 9-Ball Tour stop # 10 will be at Sharp Shooters Billiards & Sports Pub in Amsterdam NY on February 18 & 19 for our "Northeast 9-Ball Open XXXIV". Tim and Julie Berlin, owners of Sharp Shooters, deserve much thanks for once again hosting our event and allowing us the use of their beautiful room. Be sure to make it to this one as it could be our last at Sharp Shooters! Due to family obligations, Tim has decided to sell Sharp Shooters after being in business for 12 years now. He is looking to sell everything together which includes the building, all equipment and the business. Included are 8 of the 9 ft Diamond Pro tables & lights that were previously used at one of our Turning Stone events as well as 6, 7 foot Diamond bar boxes all covered in 860 Simonis, "The Cloth Of Champions". At Sharp Shooters there is something for everyone. You can enjoy a friendly game of Pool, Foosball, Darts and even two tournament quality indoor Bocce Ball courts, all while meeting friends out for some food, drinks & to watch the game. A fun and friendly atmosphere for all ages! They feature a Pub Menu that has all of your favorites, as well as a full service bar – Sharp Shooters Billiards & Sports Pub is one stop shopping for a great night out! Check them out at www.sharpshootersbilliards.com
For serious inquiries regarding the possible purchase plus much more info about Sharp Shooters, contact Tim Berlin ASAP at 518-944-6797
For those in need of motel accommodations, there are 2 nearby: Super 8, 5502 Rt 30 S, Amsterdam NY 12010 – 518-843-5888 OR
Valley View Motor Inn, 1351 NY Rt 5 S, Amsterdam NY 12010 – 518-842-5637. Both are just off exit 27 of I90 (NYS thruway) and very close to Sharp Shooters.
This event at Sharp Shooters Billiards & Sports Pub will consist of a $1500 added Saturday and Sunday Main Event (entry Fee $120 for pro level or $70 for non pro level) and a $500 added second chance event on Sunday ($20 Entry Fee) for those non pro players eliminated from the main event on Saturday.
For those of you coming to play, please arrive on Saturday February 18, BEFORE 11:00 AM, and in proper dress please. Jeans and sneakers are permitted in our billiard parlor events only. But please, no T-shirts, tanks, shorts or sweats. Complete tour info can be found at www.joss9balltour.com
Be aware that I reserve the right to alter the format of any of our events to accommodate large fields, shortage of 9 footers or by direction of the host room owner!
SCHEDULE UPDATE: I have added stop # 16.5 at Amazin Billiards in Malden MA (near Boston) on May 20 & 21!! This will be the "Massachusetts State 9-Ball Championships" and will be $1,500 Added to the main event plus $500 Added to the second chance event. More info at joss9balltour.com or at amazinbilliards.com
Please send all replies and inquiries to mzjosstour@aol.com or call Mike Zuglan at 518-356-7163. This gmail address is only used for announcements.
Please remember to spread the word to frequent your local billiard parlors and utilize the world class products of our most generous sponsors. They are the backbone of our sport and deserve our support!!
Thanks, and I hope to see you all at Sharp Shooters.
Mike Zuglan
The Joss Northeast 9-Ball Tour Is Proudly Sponsored By;
Joss Cues – http://www.josscues.com
Turning Stone Resort Casino – http://www.turningstone.com 
Simonis Cloth – http://www.simoniscloth.com
Poolonthenet.com – http://www.poolonthenet.com
AzBilliards.com – http://www.azbilliards.com
Aramith – http://www.aramith.com
Billiards Press – http://www.billiardspress.com
World Class Cue Care – http://www.jnj-industries.com