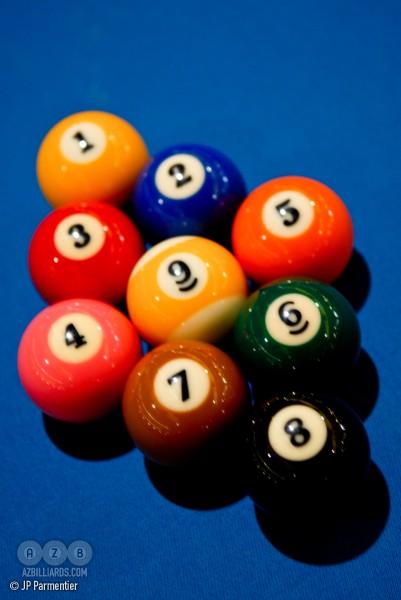 Challenged in finals by Russell Scott who wins nine on the loss side to challenge him
As many of us know, and a few have experienced first-hand, 'dark horse' candidates can emerge in pool tournaments. Their lack of history has a way of making them a bit of a mystery to more experienced players. These more experienced players tend to have tools and strategies to deal with the unknowns in a match against a relative stranger, but it is not unknown for such 'dark horses' to come out of virtually nowhere to snatch trophies and cash out of the hands of far more experienced competitors. 
The Viking Cues' Q City 9-Ball Tour went to Sumter, SC this past weekend (Nov. 14-15), where they held a tour stop at Strokers Billiards that yielded a winner and runner-up with virtually no history in the sport whatsoever. As far as we know, Mitch Holmes, who went undefeated in a field of 30 entrants that showed up to compete in the $500-added event, has never cashed in a tournament anywhere. Russell Scott, who won nine on the loss side for the right to meet him in the finals, has cashed in only one event (again, as far as we know), finishing 7th at a stop on The Great Southern Billiard Tour, seven years ago. With Holmes racing to 5 and Scott racing to 6 throughout the tournament, they both got by last week's winner on the tour and a player with a lot of history, Doug Young, who, throughout the tournament was racing to 11.
It was Young, in fact, who initially sent Russell Scott to the loss side. Scott had been awarded an opening round bye and squared off against Young in the second round. They battled to double hill before Young prevailed and eventually advanced to a winners' side semifinal against Billy Brooks. Holmes, in the meantime, drew Chris Cricket in the other winners' side semifinal.
Holmes sent Cricket to the loss side 5-4 (Cricket racing to 6), as Young downed Brooks 11-1. Holmes claimed the hot seat over Young 5-9.
On the loss side, in the first money round, it was Cricket who had the misfortune of running into Russell Scott, who was six matches into his nine-match, loss-side winning streak and obviously looking for more. He'd most recently eliminated Ezekiel Gomez, double hill, and Bobby Jamison 6-3. Brooks drew Mikie Bryant, who'd just won two straight double hill battles, versus Chris Weasel and Larry McGee.
Scott, picking up speed, won his next two matches without giving up a rack; 6-0 over Cricket and 6-0 in the quarterfinals against Bryant, who'd previously eliminated Brooks 6-3. This sent Scott to a rematch against Young in the semifinals.
Young slowed him down some, but not nearly enough. Scott took the semifinal match 6-9 (Young racing to 11), and earned himself a shot at Holmes in the hot seat. 
Holmes defeated Scott 5-3 in those finals to claim the event title.
Tour director Herman Parker thanked the owners and staff at Stroker's Billiards for their hospitality, as well as title sponsor Viking Cues, Bar Pool Tables, JB Magic Templates, AZBilliards, Tickler Pool Ball Washing Machine, Skyline Construction, Federal Savings Bank Mortgage Division and Dirty South Grind Apparel Co. With five stops left in the year, the Viking Cues' Q City 9-Ball Tour will hold its annual Turkey Bowl event this coming weekend (Nov. 21-22), in lieu of holding it, as it usually does, on Thanksgiving Day weekend. The event will be collecting canned goods donations during the $500-added event, which will be hosted by Break & Run Billiards in Chesnee, SC.