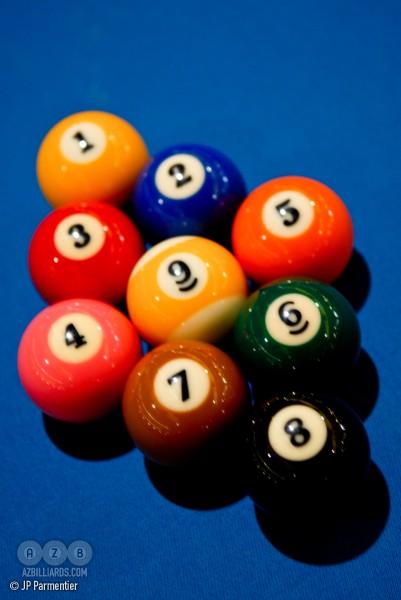 DJ Brads isn't the first competitor to bring home his first recorded cash payout with a win on a regional tour event and isn't likely to be the last. But losing his first match at last weekend's (Sat., March 5) Viking Cues' Q City 9-Ball Tour stop and then wending his way through eight loss-side wins to double dip hot seat occupant, Greg Taylor, certainly caught the attention of those present who watched it happen. To include the attention of tour director, Herman Parker, who'll likely be adjusting Brads' handicap rating for future events. The $500-added event drew 24 entrants to the Clubhouse in Lynchburg, VA.
Brads lost that first-round match of his to Justin Knuckles and would successfully win their rematch in the semifinals later. Knuckles advanced through three more opponents to face Scott Largen in one of the winners' side semifinals. Taylor and Rodney Strickland squared off in the other one.
Knuckles moved on to the hot seat match 6-2 over Largen. Taylor joined him after sending Strickland to the loss side 8-2. In a double hill battle, Taylor claimed the hot seat (8-5), sending Knuckles off to his semifinal rematch.
Three wins into his loss-side streak, Brads downed Wes Campbell 5-1 and shut out Ethan Carson to draw Strickland. Largen picked up Cameron Lawhorne, who'd recently eliminated James Marvin 8-3 and Earl Kent, double hill. Brads moved into the quarterfinals 5-1 over Strickland and was joined by Largen, who'd defeated Lawhorne 6-4.
Brads' win #7 in those quarterfinals sent Largen home 5-4 (Largen racing to 6). This handed Brads his opportunity for redemption (or revenge, dependent on how you look at it) against Knuckles in the semifinals. He'd given up six and chalked up three racks in their first meeting. This time around, he tallied five racks, gave up only one and moved on for a shot against Taylor in the hot seat.
With Taylor racing to 8, Brads completed his trip to the winners' circle with a 5-2 victory in the opening set of a true double elimination final and won the second set 5-3 to claim the title.
Tour director Herman Parker thanked the ownership and staff at the Clubhouse, as well as title sponsor Viking Cues, BarPoolTables.net, Break Time Billiards of Winston-Salem, NC, Dirty South Grind Apparel Co., Realty One Group Results, Diamond Brat, AZBilliards.com, Ridge Back Rails, and Federal Savings Bank Mortgage Division. The next stop on the Viking Cues' Q City 9-Ball Tour, scheduled for this weekend (March 12-13) will be a $500-added event, hosted by Still Cluckin' in Providence, NC.