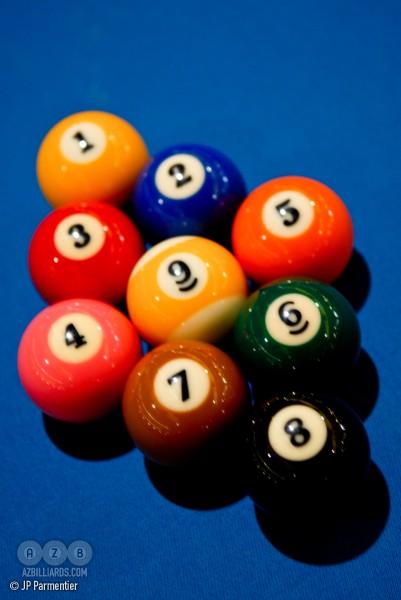 Though a combination of other nearby events and the occasion of Father's Day put a damper on total attendance, the Viking Cues' Q City 9-Ball Tour held a single-day, double-event stop last weekend (June 19). A 9-ball event, on 7 ft. bar tables, which drew 22 entrants, was won by Brandon McGuire, who went undefeated. A One Pocket event, on 9 ft. Diamond tables, which featured a $100 entry fee, drew 9 entrants and was won by Ron Frank, Jr., who, following a defeat at the hands of Shane Jackson in the hot seat match, came back to defeat him in the finals. The two events were hosted by Railbirds Billiards in Hickory, NC.
The father/son combination of Ron Frank, Jr. and Trey Frank featured prominently in both events. Dad went home the day before Father's Day with the One Pocket title, while son Trey finished as runner-up in the 9-ball event, which featured the unrealized potential of a father-son quarterfinal.
In the 9-ball tourney, Brandon McGuire advanced to a winners' side semifinal versus Jerry Hilton, while Jeff Howell and Josh Allen squared off in the other one. McGuire and Hilton battled to double hill before McGuire prevailed, sending Hilton to the 5/6 matches on the loss side. Allen moved west, as well, defeated by Howell 7-1. McGuire claimed the hot seat 5-2 over Howell and waited on the return of what turned out to be Trey Frank.
On the loss side, Trey Frank, who'd been sent over by his Dad in the second round, picked up a forfeit victory over Jonathan Ailstock and defeated Jamie Green 7-4 to draw Hilton. Allen drew Ron Frank. Trey did his part, advancing to the quarterfinals 7-5 over Hilton. Dad, though, was defeated by Josh Allen 5-6 (Frank racing to 8).
Trey eliminated Josh Allen 7-3 and then earned himself a shot at McGuire in the hot seat with a 7-5 victory over Jeff Howell in the semifinals. McGuire concluded his undefeated run with a 5-3 win over Trey Frank in the finals.
Frank, Jr. and Jackson battle twice for One Pocket title.
Ron Frank, Jr. and Shane Jackson played two double hill matches to decide who'd bring home the $450 first-place prize in the One Pocket event. Jackson won the first one. Frank, Jr. won the second to claim that title.
They'd both advanced through two rounds to the winners' side semifinals. They both defeated their opponents in those winners' side semifinals 3-1; Frank over Matt Harrell and Jackson over Hunter White. Jackson claimed the hot seat in the first of the two double hill matches he'd play against Frank.
On the loss side, Harrell ran into Jonathan Ailstock, who'd shut out Lee Steelman to reach him. Hunter White picked up Jerry Hilton, who'd eliminated Doug Young and Robert Hamilton, both 2-1. White shut Hilton out and in the quarterfinals, faced Ailstock, who'd sent Harrell home 2-1. 
White then shut out Ailstock in those quarterfinals and entered the semifinals versus Frank without having given up a single rack in either of his loss-side matches. He gave up two to Frank in those semifinals and chalked up only one himself.
Frank moved on to his second double hill match against Jackson. This one, he won to claim the event title.
Tour director Herman Parker thanked Steven and Leslie Hughes and the Railbirds' staff for their hospitality, as well as title sponsor Viking Cues, BarPoolTables.net, Dirty South Grind Apparel Co., Diamond Brat, Federal Savings Bank's Mortgage Division and AZBilliards. The next stop on the Viking Cues' Q City 9-Ball Tour, scheduled for the weekend of June 26-27, will be hosted by Jac's All-American Billiards in Newport, TN.