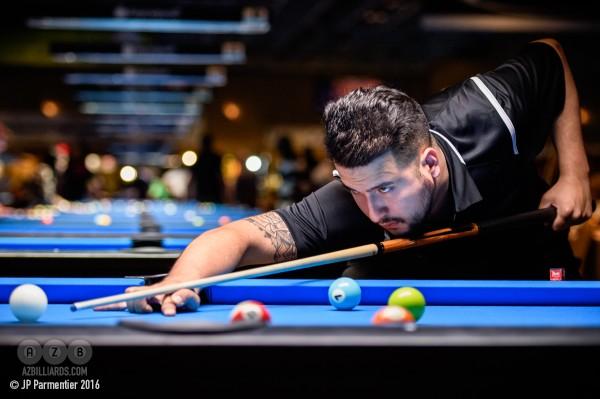 Taylor Anderson (Photo courtesy of JP Parmentier)
The US Open 8-Ball Championship kicked off on July 23rd with a field of 63 players at the Rio All Suites Resort and Casino in Las Vegas, Nevada.
As is always the case in a big event like this, there is at least one major upset on day one, and on this day, that upset was Kansas'
Taylor Anderson
's 9-7 win over
Shane Van Boening
. Van Boening never led in the match, and a missed ball late in the match by Van Boening was the difference. "I'm glad I played him in the first match", Anderson said. "It got me in stroke and I feel like I played a perfect set against him". Van Boening bounced back from the loss and won two matches on the one loss side to remain in the hunt for the title.
Another upset on day one saw New Zealand's
Matt Edwards
hand Mosconi Cup hopeful
Oscar Dominguez
a 9-3 loss. Dominguez was operating on very little sleep, after driving his Dad,
Ernesto Dominguez
, back to Sylmar California in between the US Open 10-Ball Championship and this event. "Dad was dealing with some health issues, and I had to take him home. I halfway want to stay here and win this tournament, and I halfway just want to go home and take care of my Dad", the younger Dominguez said. (Dominguez will have another day to ponder that decision, as he faces
Justin Bergman
Sunday morning. )
Predator is the official cue of the US Open 8-Ball Championship. They are joined by Kamui (the official tip), Cyclop (the official balls), Omega Billiards (the official online store) and Diamond (the official table) as major sponsors of this event.