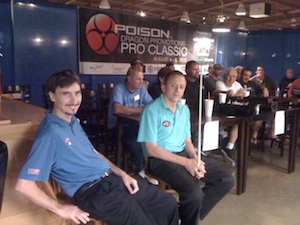 The Scorpion and South Dakota Kid were sitting pretty after an undefeated run in the 8-Ball Doubles
New Iberia, Louisiana- USA #1
Johnny Archer
and USA #3
Shane Van Boening
proved to be a formidable duo in the round robin stage of the 3rd Annual DP Poison Pro Classic. Archer and Van Boening were the only undefeated team as they won all four of their matches. The Dragon Promotions produced pro events coincided with the 5th Annual Ozone Billiards US Amateur Open. All the events take place at the fantastic facilities of Emerald Billiards in New Iberia, Louisiana and are sponsored by Ozone Billiards www.ozonebilliards.com , Brunswick Billiards, Bonus Ball http://www.playbonusball.com/, Master Chalk, Simonis Cloth, APA Acadiana, and Aramith Balls.
Fans can catch all the action live online with internet streaming provided by www.poolactiontv.com
The South Dakota Kid and the Scorpion started off slow as they trailed young gun team of Tommy Najar and Dustin Boyd 4-1. But they came back strong with a 8-4 win. Then they took out Immonen & Morris 8-5, then ran into a tough 8-7 win over Putnam and Beckley. Finally they dusted off Hohmann and WIlliams 8-3 to finish their round robin stint unscathed.
"Charlie didn't miss one ball in four matches. Even when I left him super hard shots", said Hohmann after the matches. Williams added, " Sometimes even when you play well things still have to go your way. But doubles is alot of fun and I learned some interesting things comparing notes on how Thorsten thinks. So that will go into the Dragon's playbook! "
Jeff Beckley
of Indiana and
Shawn Putnam
of Georgia made a odd pairing that worked well as they toppled Hohmann and Williams 8-6 and then another upset over Morris and Immonen 8-5. Hohmann/Williams were only able to score one win 8-3 over Najar/Boyd to finish 4th.
Tomorrow Morris/Immonen will re-match Putnam/Beckley with the winner facing Archer/Van Boening for the title match.