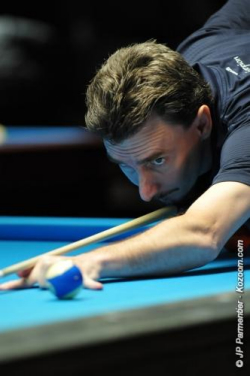 Johnny Archer
Team USA got day two of the Mosconi Cup off to a positive start as Johnny Archer and Shane Van Boening overcame some shaky play late in the match and defeated Niels Feijen and Nick van den Berg 6-5.

The level of play definitely picked up for Team USA in this match, but Team Europe matched them rack for rack early on. From a 1-1 score, the next five racks were break and runs in the alternating break format match. Nick van den Berg was the first to blink at 4-3 down, when he lost control of a break shot and watched the cue ball find the pocket. Team USA cleared that table for the 5-3 lead, but Van Boening then saw his cue ball kicked into the corner pocket on the next break and Team Europe answered with a run of their own for 5-4.
It looked like the match was over after a dry break in rack ten by Niels Feijen, but Team USA had their run derailed by Shane Van Boening when he overstroked a 7-ball and left Johnny hooked on the 8. A short safety battle culminated in Niels slicing in the 8-ball and Nick pocketing a tricky 9-ball for 5-5.
Johnny was at the table breaking in the case game, and he took full advantage with four balls on the break and nothing tied up. Shane helped the US pair take complete control of the final game with an outstanding cut on the 4-ball and two rail shape on the five for Johnny. Four balls later, it was Team USA celebrating a much needed win and a 4-2 over scoreline.