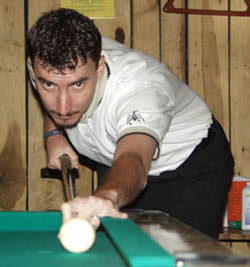 Johnny Archer
With day one in the books, Team USA has pushed out to a 4-2 lead at the Border Battle being held at Le Skratch Billiards in Laval Quebec Canada.
The first match of the day saw the team of Nick Varner and Johnny Archer defeat the team of John Horsfall and Alain Martel 5-2 to give the US team a 1-0 lead. Team Canada struck back immediately, as the team of Cliff Thorburn and Alex Pagulayan defeated Earl Strickland and Corey Deuel 5-1 to tie the score at 1-1.
Corey Deuel came back to win a close 5-4 match against Pagulayan to give the US team a 2-1 lead, but John Horsfall looked to be on his way to evening things again as he jumped out to a 2-0 lead against Johnny Archer in match #4. Archer came back, however, and won the next five games in a row to defeat Horsfall 5-2 and give the US a 3-1 lead.
Earl Strickland gave the US team a 4-1 lead with his 5-1 win over Alain Martel. In the final match of day one, Cliff Thorburn defeated Nick Varner 5-2 to move the Canadian team back within 2 at 4-2.
Play continues at LeSkratch on Friday.
Photo courtesy of Diana Hoppe - Pool Pics by Hoppe