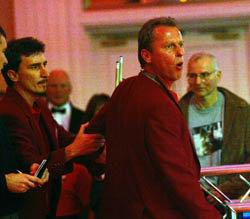 Team USA's Earl Strickland and team captain Johnny Archer
Team USA completed a terrific comeback on day one of the 2005 Mosconi Cup as they came from 2-0 down to win three games on the spin to carry a 3-2 lead into the second day of competition.
With the scores poised at two apiece the final doubles match of the day, the Euro pairing of Mika Immonen and Marcus Chamat fought back from 4-0 down to tie the match up at 4-4 and leave opponents Earl Strickland and Rodney Morris reeling.
However, the match ended in controversial circumstances as Chamat time fouled after the cue ball ran out of position. The clock and audible bleep, which counts down the final five seconds, failed to go off properly and following deliberation with tournament officials, referee Michaela Tabb allowed the Swedish player to play the shot.
He fouled though and from there, the Americans cleared to take the match.
By that time though Strickland's ever shortening fuse was about to blow. Firstly, he walked out on a live TV interview with Sky Sports' presenter Andy Goldstein and then became embroiled in an unsightly slanging match with European supporters.
"You suck, you suck, all of London sucks!" yelled the three-time World Champion before being visibly restrained by his captain Johnny Archer.