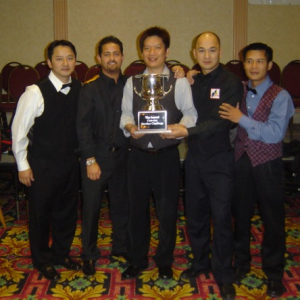 George Lai, Romil Azemat, Truman Wu, Raymond Fung and Jack Kung
Team USA are all set to defend the Can-Am Team Snooker Challenge against Team Canada when the event gets underway at the Riviera Hotel & Casino in Las Vegas from June 7-9.

In what will be the third annual challenge between the two nations, played alongside the American CueSports Alliance (ACS) National Pool Championships and organized in partnership with the ACS, the Canadian Billiards & Snooker Association and the United States Snooker Association, Team USA have brought back four of the players who defeated Team Canada 12-8 last year.

The Team USA captain is the recently crowned new United States National Snooker Champion George Lai, and he is joined by last year's champion Jack Kung, the 2006 United States National Snooker Championship runner-up Romil Azemat, and the former semifinalist Truman Wu.

Team Canada will be hoping to repeat the success they tasted in the first challenge back in 2006, and have this year put together a team consisting of their captain Odie Willet who is a former Canadian Snooker Championship quarterfinalist, the three-time Canadian Snooker Championship semifinalist Lester Mianskum, the 2007 Canadian Snooker Championship quarterfinalist Eriks Malderis, and Pat McCarthy, who reached the last-32 in the 2000 Canadian Snooker Championship.

The format for this three-day event is that prior to the start, each of the four team members will be assigned a player number (1 through to 4), of which they keep throughout the event.

There will be sixteen singles matches, each team member playing an opposing team member over the best-of-five-frame matches, and four doubles matches which are also played over the best-of-five frames.

The winner of each match will gain one point for their team, with the team with the most points being declared the champions. Should there be a tie of ten points each after all twenty matches, the respective team captains will nominate a player to play a one-frame playoff for victory.