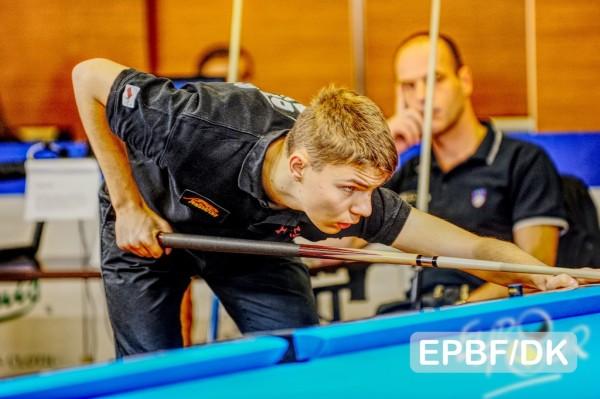 Wiktor Zielinski (POL)
There were new developments at the start of the European 9-ball tour as thousands of pool fans tuned in to watch Thursday's matches on Kozoom and the EPBF facebook page. With the free promotion in full swing and a packed house here in Italy it was a great start to the 2018 season.
The last time we were in Italy in November 2017, the young Polish star
Wiktor Zielinski
claimed his first ever Eurotour title and he has made light work of the first two matches here today. First up was the unknown British player
Mark Foster
who started well but surely felt the pressure as he caved in 9-4. Up next for Wiktor was Slovenia's
Matjaz Erculj
who is no slouch himself but after Wiktor raced into a 3-0 lead it looked plain sailing from there. Matjaz had other ideas though and hung on in there picking off the frames and as he got closer, the nerves set in for Wiktor. Matjaz pulled it back and trailed 7-6 but a little mistake let Wiktor take the spoils 9-6 and progress to the next round where another victory tomorrow at 15:00h will see him safely into the last 32.
Other notable results saw Austria's
Mario He
also through and needing one more to book his place in the single elimination while the local heroes, Italy's
Fabio Petroni
&
Daniele Corrieri
having to do it the hard way on the loser's side. The talented Portuguese player
Henrique Correia
who is well known in the senior division with multiple titles was up against former world champion
Oliver Ortmann
. After a bright start, Henrique lost ground as Oliver put rack after rack on the board and eventually won 9-4 which sends Henrique to the last chance saloon tomorrow where he awaits the winner from Daniele Corrieri or Spain's
Javier Del Santo-Sanz
.
Every day, two matches from the event will be shown LIVE on the Facebook page of the EPBF for free. All Facebook users may check out the high standard of quality which is provided for all the events and see what the Kozoom members receive all the time. You can see all the matches live via www.kozoom.com who stream the whole event on 20 tables on the internet LIVE. The FB live matches are announced on the EPBF Facebook page every day. Results and schedules can be found at www.eurotouronline.com so why not come and check out all the LIVE action of the Dynamic Billard Treviso Open.
The event will be hosted by the European Governing Body for Pool, the European Pocket Billiard Federation (EPBF) and organized by International Billiard Promotion (IBP). For further information and reference please go to the federation website
www.eurotouronline.com
visit us on Facebook or check out our youtube channel for regular news clips or contact our press office press@epbf.com.