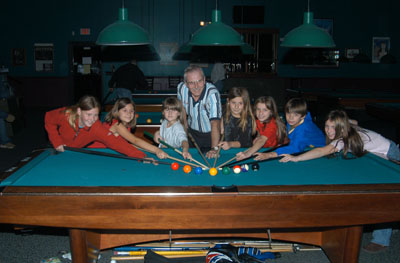 Tom Rossman and a group of new players
There was a very unusual and yet "stellar" show Sunday night (November 5, 2006) at "Pool Table Magic" in Windsor Locks, Connecticut. Tom "Dr. Cue" Rossman came to Pool Table Magic to perform a spectacular trick shot show never before performed in this fashion…..in total darkness!!! The event started with a "debut" TV showing of the ESPN Trick Shot Magic competition held in Las Vegas this past October, with "Dr. Cue" in the finals against Mike Massey. The show was televised on the big screen in the main pool room while Tom and his wife Marty watched with other on-lookers, as the trick shot stars performed phenomenal shots that wowed the spectators.
There was an additional treat when Mike Massey and Bruce Barthelette showed up to watch the debut showing and Tom's evening performance. Bruce also played in the ESPN event finishing right behind Mike and Tom. Mike, Bruce, Andy Segal, and Tom were part of the recent ESPN World Cup of Trick Shots "Team" event at the Mohegan Sun in Uncasville, CT. Team USA won over Team Europe in exciting fashion.
The televised show ended and "Dr. Cue" prepared to perform some magic live. To everyone's shock and surprise, the room was plunged into total darkness with a power failure that affected over 10 neighboring towns for several hours. Tom, being the excellent showman that he is, performed his wide array of trick, fancy, skill, and novelty shots with flying colors aided with only a few flashlights. The audience crowded around the table with just a few emergency lights to show the way and watched while "Dr. Cue" performed shot after shot amidst applause, laughter, ooohs, ahhhhs, and cheers. Imagine shooting a shot where a ball flies off the table into a cowboy boot in the darkness! Both Tom and Mike Massey accomplished the feat in back to back efforts, while Bruce Barthelette executed an "artistic pool" shot to perfection in the dark as well. The crowd was thrilled to be part of such an adventure.
To finish off the show, Tom had seven children in the crowd (new budding stars) each shoot their own trick shots, as they became "shooting stars" themselves. The crowd went wild! Even with the total darkness created by the power outage, the "stars" sparkled brighter than ever on this special night!