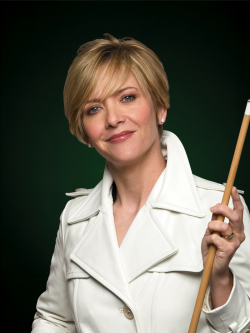 Allison Fisher (Photo courtesy of the WPBA)
June 9, 2009 - Thousand Oaks, CA: The WPBA Board, Office and Player Members would like to extend its warmest congratulations to Allison Fisher who will be inducted into the BCA Hall of Fame, October 22nd, 2009. Allison's 53 WPBA Classic Tour Titles, her three World 9 Ball Championships and 12 World Championship titles in Snooker makes her the top-most winning female in our sports' history. In addition, she's been given Player of the Year honors by both Billiards Digest and Pool & Billiards Magazine 11 times out of 12 years.

Dawn Hopkins, WPBA Board President, states "There is no doubt that Allison is the most decorated female pool player of all time and the Board congratulates her on a well deserved induction to the BCA's Hall of Fame. Allison's commitment to the sport is not just as a competitor; she is a past President of the WPBA Board of Directors and continues to be involved which shows her genuine desire for the organization to succeed. Allison's presence on the WPBA Tour has been a gift to us all."

Ewa Laurance, both a BCA & WPBA Hall of Fame member says "I first met Allison in 1991 in the UK, where we played an exhibition match together. I knew then that she was something extraordinary and admired her play on the snooker circuit. Since 1995, when Allison decided to move to the US, she has not only brought the overall quality of play on the WPBA Tour to new heights, but she has also brought a lot of class to our sport. I'm thrilled that she is this year's recipient of the much deserved BCA Hall of Fame award. You go Allie!"

Actor and long-time TV Commentator Mitch Laurance compliments Allison on her nomination "Since 1995 it's my privilege to do the television commentary for WPBA events on ESPN and as such have had the incredible opportunity to follow Allison Fisher's WPBA career, literally, from the first event in which she participated. I remember that week in Charlotte, NC, and the talk around the Tour that a new presence would soon be felt. I can't imagine that any of us had an inkling of the kind of success we were about to witness over the next decade and a half. No one in the history of the women's game has put up the kind of statistics and consistency of play over the length of a career (one that is still quite in progress, I might add!) that Allison has, against all comers, across numerous formats and through times good and bad. All with the most respectful competitive attitude, true sportsmanship throughout every competitive situation and a willingness to represent the sport in the most gracious of ways. I feel lucky to have seen a Hall of Fame career such as Allison's up close and personal, and congratulate her on an election to the Hall that couldn't be more rightfully deserved."

Tom M., a big fan, writes "Allison: Congratulations on getting inducted into the BCA Hall of Fame, it is very well deserved. I am a big fan of yours and very happy for you. Your induction tops the wonderful accomplishments that you have achieved over the years and all the many titles you have won. You made me a big pool fan and I love playing as well. I enjoy watching you play and I learn so much from watching the best and you are no doubt one of the best pool players of all time. Good luck to you Allison; I wish you all the best."

Mr. Michael Dimotta – President of Imperial/Cuetec writes, "Imperial is very proud and honored to have Allison Fisher on our staff , her endorsement of Cuetec for the past 15 years has help grow the BRAND, We at Imperial know that Allison will be in the Hall of Fame and rightly so. Allison exemplifies what at true athlete is. She has dominated the WPBA from the beginning. There is no other professional pool player male or female that has won more titles then Allison. She has been a true ambassador of the game on and off the tour. Congratulations."

And finally, Allison herself remarks, "It's wonderful to be recognized like this. I had a great career in snooker as well, but was never recognized for it. I've had a great career in 9-ball and this is the icing on the cake. Being recognized among the greatest players is something that is there forever. It's a great honor."

2009 marks Allison's 14th year on the WPBA Classic Tour. She is the defending Champion of the WPBA Great Lakes Classic and as we head into this event June 17th, certainly looks to improve upon her already stunning record and add to her achievements in Women's Professional Billiards. From the WPBA Board, Office, Player Membership, Sponsors and fans; well done, Allison!