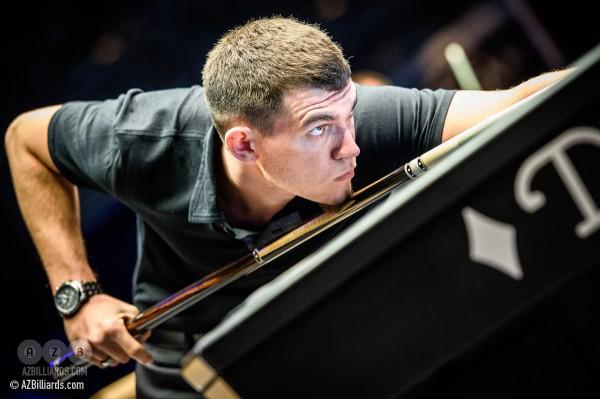 Billy Thorpe (Photo courtesy of JP Parmentier)
As happened last year in its debut, the 2nd Annual Dismal Swamp 9-Ball Classic benefited from its temporal proximity to the US Open 9-Ball Championships. Both years, players from all over the country and around the world, already in-country to compete in the Open, used the Dismal Swamp event as a warm-up and potential means of filling up their financial 'gas tank' prior to the Open.
This year, the $2,000-added event drew a full field of 32 entrants, including its defending champion,
Shane Van Boening
, who defeated
Oscar Dominguez
in the finals of the 1st Annual Dismal Swamp Classic. Held on the weekend of October 14-15, at Colonial Cues in Elizabeth City, NC, about an hour away from Norfolk, VA, the event yielded something of a surprise winner in
Billy Thorpe
, who defeated the defending champion twice to claim the title.
Thorpe, in the middle of his best year, financially, to date, had yet to win an event in 2016, though he had placed among the top five in a series of major tournaments, including all three of the US Bar Box Championships (10-Ball, third place/4th in 8-ball & 9-ball), the 3rd Memphis Open One Pocket (third), the Derby City Classic 9-Ball Banks (4th), the Chinook Winds Open 8-Ball (fifth), and the 34th Brickyard Classic (5th). His last recorded tournament victory came in October, 2014 at the eighth stop on the Midwest 9-Ball Tour.
Though Van Boening put up a fight, twice, Thorpe won both of their meetings to claim the title. Of the four competitors who made it to a winners' side semifinal on this weekend, three were former US Open Champions; Van Boening (2012/13/14),
Gabe Owen
(2004) and
Tommy Kennedy
(1992). Thorpe and Van Boening met first in the hot seat match after Van Boening had sent Owen to the loss side 8-6 and Thorpe had dispatched Kennedy over 8-5. Their first meeting was a double hill battle, during which Thorpe made a "ridiculous bank shot" to win the deciding game.
Kennedy downed Gallego 8-6 and advanced to the quarterfinals. Foldes joined him after a winning double hill effort against Owen. Kennedy and Foldes fought to double hill before Kennedy finished it. He and Van Boening then locked up in what was most certainly one of the weekend's marquee matchups in the semifinals. It went double hill before Van Boening advanced for a second shot against Thorpe.
The two came within a game of double hill. To the surprise of many, though possibly not all, it was Thorpe who pulled out in front, late in the match, to win it 11-9, at approximately 5 a.m. on Sunday morning.
And it was off, for most of the 32 participants, to the US Open.