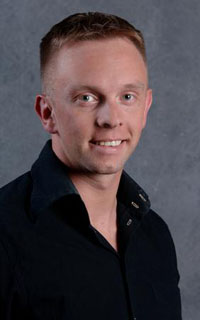 BCA Open 9-Ball Champion Thorsten Hohmann
Lucasi Cues is the proud new sponsor of #1 World Ranked & BCA Open Champion Thorsten Hohmann. Hohmann is now using Lucasi Cues with their new technological advanced Universal Smart Shaft.
Hohmann could be proudly seen wearing the famous Lucasi logo on his apparel during the World 9-Ball Championships in Taiwan , The Korea International Championships, and The World Games in Germany where he Silver Medaled. Known as "The Hitman" on tour, Hohmann has already had a tremendous year winning the European Straight Pool Championships and winning the BCA Open with a 7-0 shut out in the finals on ESPN.
"I am completely honored that such a great company as Lucasi & Universal Smart Shaft has chosen me to represent them. I was very skeptical at first of switching cues, but when I first tried the Lucasi with the Universal Smart Shaft, I was simply amazed at how great it felt right away. Being here in America and then with Lucasi...well, it is definitely an American Dream." said the former World Champion Hohmann.
Hohmann recently moved to Florida under the guidance of his managers, Dragon Promotions Sports Management. He only lives 30 minutes from Lucasi Cues/Universal Smart Shaft headquarters.
"Thorsten is such a tremendous player and so many credentials already. His past year could be career highlights for most players, and he's only 26 years old. We know he's only just at the beginning of a long illustrious career." says Mike Baggett , VP of Cue & Case and Lucasi Cues. "But whats more impressive than his play is his attitude and demeanor. Thorsten is a perfect ambassador of the game. That fits well with our company and the Lucasi name."
Cue & Case has been in business for 15 years and was founded by Jim Lucas. Jim's goal to provide pool players with a high quality, genuine inlay cue at an affordable price was acheived with the Lucasi cues and they have been in production for almost 10 years. Cue & Case is also one of the largest billiard distributors providing dealers with a complete line of all items needed to create the ultimate gameroom.