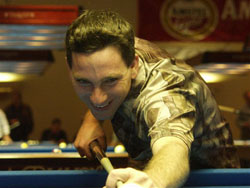 Tommy Kennedy
Tommy Kennedy took down another stop on his SE Open 9-Ball Tour this weekend at Pockets in Dothan Alabama. Kennedy came into the event having won the last two tour stops, but he would have his hands full with the field of 45 players this week.
The match for the hot-seat came down to Kennedy and Mike Davis, and it was a true battle. The turning point came with the score knotted at 7-7 when Kennedy missed a 6-ball allowing Davis to the hill first. Kennedy won the next game to tie the score at 8-8, but Davis won the final game for the 9-8 win.
Kennedy's run looked over on the left side of the board with Scotty Townsend leading 8-5 and playing perfect 9-ball. Kennedy got a game to get back within two racks at 8-6 and then Townsend missed a very makeable 2-ball to allow Kennedy back to 8-7. In the next rack, Kennedy broke and saw the 9-ball heading for the pocket. Unfortunately, it stopped in the jaws and no other balls found pockets. Townsend ran to a 3-9 carom and took aim. Townsend executed the carom perfectly and his cue ball headed for the 9-ball. The cue ball made contact, but again the 9-ball refused to go down. When the balls stopped rolling, the 3-9 combo was wired and Kennedy took advantage to get back to 8-8. A break and run was all that was left for the fans to watch in this match as Kennedy scored the 9-8 win and earned the rematch with Davis in the finals.
The finals between Kennedy and Davis went back and forth with each players shows signs of greatness. Davis brought the crowd to it's feet with a great jump bank shot with shape, but as the match moved on it was Kennedy who started to take command. Kennedy moved ahead 9-7 and then 10-7 when Davis missed a relatively makeable shot. Just like the previous match, it was Kennedy with a break and run to seal the deal for an 11-7 win.
Kennedy earned $780 for first place, while Davis went home with $550. Scotty Townsend and George Rothrock filled out the top four spots. Vicky Rybik was the top female and Denny Singletary the top junior.
Kennedy thanks Tony Marzahis for all of his help on tour this year and also thanked Ron Park for helping put together another great event.
The SE Open 9-Ball Tour will be at the K-O Corral Billiard Club in Enterprize,AL next week for another $1000 added event.
Complete Results:
1st Tommy Kennedy $780
2nd Mike Davis $550
3rd Scotty Townsend $400
4th George Rothrock $300
5th/6th Ron Park, JR Rossman $200
7th/8th Doug Kessler, Keith Padgett $100